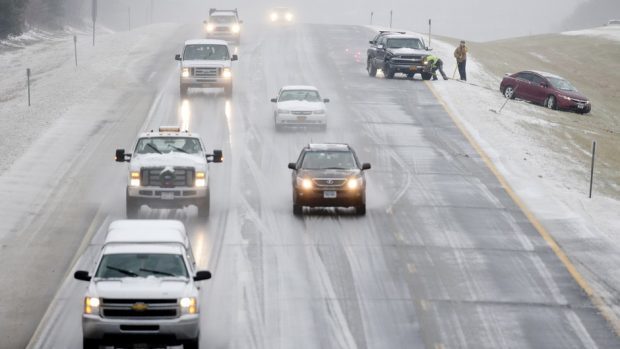 The north-east could be hit by Arctic temperatures today and tomorrow as Scotland braces for its coldest winter in five years.
The Met Office has warned that temperatures could plummet to as low as -15C in parts of Aberdeenshire and Moray as it issued a yellow warning for snow and ice for Grampian.
A blast of cold weather moving in from the Arctic is bringing the cold spell to the region, with snow expected to fall as far inland as Aberdeen this morning and tomorrow afternoon.
Huntly, Alford, Braemar, Ballater, Keith, Tomintoul and Aberdeen are all expected to have snow this morning.
As much as 4in of snow is expected to land in the hills this morning, with the potential for about an inch at lower levels.
Motorists have been warned to expect ice and frost on the roads for the next few days.
However the worst of the snow will come tomorrow with Huntly, Braemar, Tomintoul and Keith among the places where it will land thickest.
Other areas including Deeside, Donside and Aberdeen could also get snow – though not as much as the most inland areas.
Aberdeen Met Office meteorologist, Stuart Brookes, said this weekend could bring "a five year low" in temperatures.
Speaking last night he said: "Friday night and into Saturday there is going to be a few snow flurries in the eastern sides. We might see something falling in Aberdeen as well. There will be more on Saturday day time.
"The main time for this area is during Friday, later Friday morning, even then it looks like mostly on high grounds.
"In higher parts of Moray and west Aberdeenshire it is quite nasty conditions in the hills, just about touching blizzard conditions in the Cairngorms – it could be well up even to gale force."
He added: "Into the weekend it is mostly low temperatures and severe frost, mainly in inland areas. There will be cold weather and frost every night into next weekend.
"There is a low level snow risk going into next week. There will be some very cold temperatures. It is a kind of Arctic air mass coming down.
"-15C is even possible in the very coldest sites, particularly if we get some snow cover. We could see the lowest temperatures in the last five years."
He said the biggest temperature drop in recent years had been to -13.7C at Loch Glascarnoch in the Highlands last January.