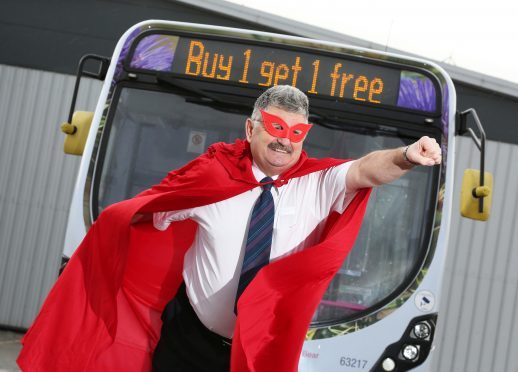 Monday, January 18, is billed as the most depressing day of the year  a bus driver in Aberdeen hopes to bring back smiles by donning fancy dress to help them get from A to B.
First Aberdeen is also continuing its push to help customers beat that  Blue Monday feeling by rewarding them with a free travel offer until the end of the month.
Until January 31, customers buying a First Day ticket on a Saturday can travel for free on the Sunday, a saving of £4.
Driver Ian Walker said: "I hate to see my customers with the January blues so a few of us were wondering what we could do to cheer people up on Blue Monday. With the First Bus promotion encouraging people to use the bus more in January, I thought I'd help make the journey a bit more fun by dressing up and making people smile. Seeing their reactions made my day more fun too!"
David Phillips, Managing Director of First Aberdeen, said: ""Well done to Ian for wearing fancy dress on Blue Monday – I'm sure it'll raise a smile with many of his regular customers."
Ten lucky winners can also celebrate with free Day Tickets, valid on Aberdeen services, to be given away on Twitter and Facebook on Blue Monday.
To win the prize, worth £8, First is asking entrants to reveal where they would go on their free journey and use the hashtag #FirstBrightMonday
Further information regarding the January promotion can be found online at
http://www.firstgroup.com/aberdeen/