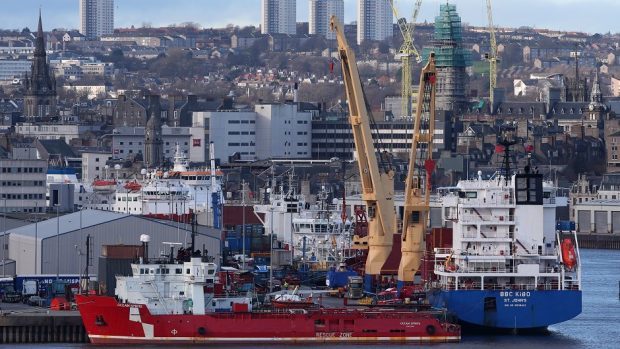 A fresh row has broken out over the funding for the Aberdeen City Region Deal.
Scottish and UK government ministers have traded blows over who should stump-up the cash to improve rail links in the north-east.
Cities Secretary Keith Brown has demanded Westminster pump an extra £200million into infrastructure for the region.
But the Scotland Office suggested the SNP minister should focus on "making a real difference to the area's economy" rather than "politicking".
Scottish Secretary David Mundell and his SNP counterparts have been involved in an increasingly heated war of words following the announcement of the jointly-funded £250million deal.
But in a letter to Mr Mundell, Mr Brown called on the UK Government to match the £200 million rail investment the Scottish Government announced at the same time as the City Region Deal last week.
He said: "It is clear that to meet the ambition the councils (Aberdeen and Aberdeenshire) have articulated through City Region Deal proposals, the area requires more."
Mr Brown said he had "invited" UK Government ministers to commit to the additional funding on a 50-50 basis with the Scottish Government and was "disappointed" they had so far declined to do so.
Mr Brown said improved rail links in the north-east would not just help Scotland, but cities in the north of England as well.
He added: "The extra funding announced by the Scottish Government will make a much more significant step change to the economy of the north-east and I am sure the UK Government will wish to further demonstrate its commitment to the people who live and work there."
But a UK Government spokeswoman said: "The £250million Aberdeen City Deal, plus the private sector funds it will leverage, and the additional support for the oil industry announced by the prime minister, amounts to a fantastic deal for Aberdeen.
"In all, the package could unlock more than £1billion, and will make a huge difference to the economy of the north-east.
"The Scottish Government is, of course, free to provide additional funding to pay for devolved responsibilities, and we welcome the additional devolved spend unlocked by the City Deal.
"The UK Government will continue to look at what further support it can provide in reserved areas.
"The key is for both governments to come together to use their respective powers to support the north-east.
"The Aberdeen City Deal, which Mr Brown signed, is about making a real difference to the area's economy, it should not be about politicking."