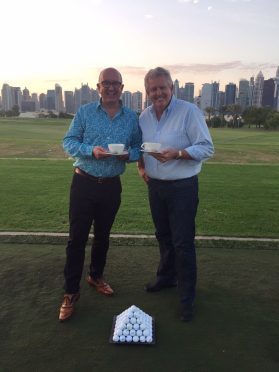 A golfing legend is urging people around the country to support a drive to help those battling cancer.
Kitchen Table Day is a new project being run in aid of Maggie's centres across Scotland.
Colin Montgomerie OBE, the eight-time European Tour Order of Merit winner, US Senior Open champion and victorious Ryder Cup captain, has lent his support to the event on February 26.
It involved people gathering as many friends, family and work colleagues as possible around their kitchen tables to help raise valuable funds.
And the organisers have urged participants to be imaginative, whether in creating a spectacular dinner party, solving a giant jigsaw, crafting cocktails or having a chat with pals at a coffee morning.
The charity opened a purpose-built centre in the grounds of Aberdeen Royal Infirmary in 2013.
It was built following the £3million Monty's Maggie's Appeal run in partnership with the Press and Journal and the Elizabeth Montgomerie Foundation, set up by the golfer in memory of his mother.
The Aberdeen centre alone expects to welcome about 8,000 visitors from across the north and north-east this year.
Mr Montgomerie said: "I am really proud to support the Maggie's Kitchen Table Day campaign.
"The kitchen table symbolises much more than somewhere to sit, it is really at the heart of each centre and is often a focal point for conversations and much of the support that Maggie's offers.
"I cannot think of a better excuse to bring family and friends around a table.
"On February 26, I would encourage everyone to come together, have fun and raise valuable funds."
To find out more about the Kitchen Table Day visit: https://www.maggiescentres.org/campaigns/kitchen-table-day/ and sign up.
Everyone taking part can be confident the money they raise will be put to good use
At the Maggie's centre, £30 pays for an exercise class for up to 10 people, £50 pays for an hour with a benefits adviser providing financial support and advice and £65 meets the cost of an hour of psychological support for a family.