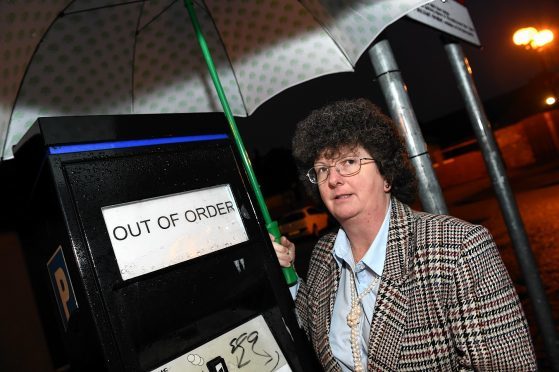 An Aberdeenshire town's parking machine headache has finally come to an end after an impasse lasting years.
The new machines in Ellon are now in place, offering motorists a free half hour of parking in the town centre before charges come into effect.
Since the arrival of Tesco on the fringe of the community, traders had raised concerns about shoppers being driven to the outskirts of Ellon.
A new £1.20 charge for up to two hours, including half an hour of free parking, has been agreed – replacing a former 60p charge for an hour.
The upgrade of Ellon's parking machines was completed last week and the new system has been introduced following an Aberdeenshire-wide consultation in 2014.
Conservative councillor for the area, Gillian Owen, said the arrival of the appliances was "considerably later than expected" due to problems installing them.
She added: "This has been a long-running saga which has not shown the council in its best light.
"I have been assured however, that processes have been put in place to make sure this type of delay does not happen in the future.
"I am pleased. They are well, well late but they are all up and running now. They were supposed to be up and running in June 2014.
"What we have to remember is residents of Ellon said that is what they wanted – 30 minutes free.
"I am sure the residents of Ellon will be as delighted as I am that their views have been taken into account."
Chairman of the Ellon Community Council, Sandy McDougall, said: "I think the community council, traders and organisations were at one in wanting the new system initiated.
"It has taken the best part of two years. It is disappointing it has taken as long as it had done, but it will be interesting to see whether it has the desired effect. It was done with a specific intention of helping people access shops."
Users of the new machines will have to input their car registration numbers even if they are only planning on using the free 30 minutes.
An Aberdeenshire Council spokeswoman said machines across Ellon as well as Inverurie, Banchory, Huntly, Banff, Fraserburgh and Peterhead should all now be fully operational.