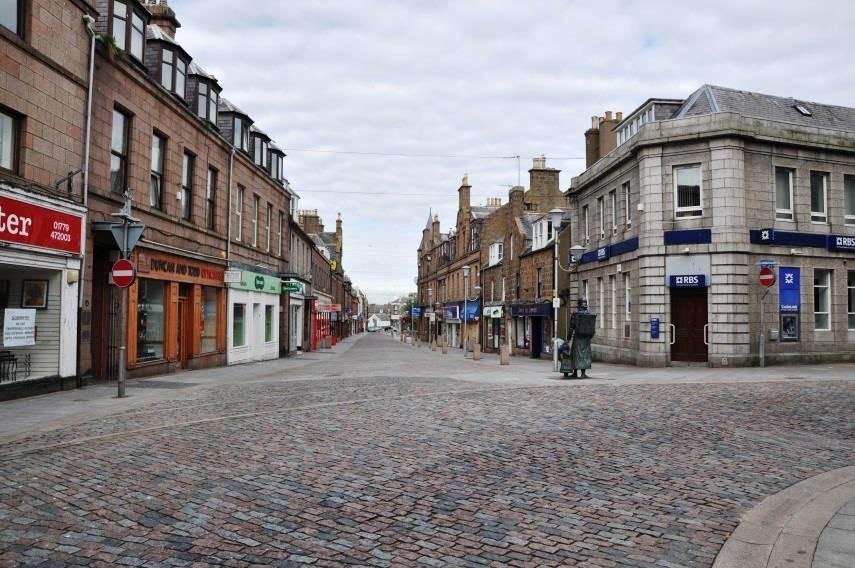 Plans have been unveiled to use "people power" to transform the heart of Aberdeenshire's biggest town.
Cash will be made available to help banish the hostile environment in the centre of Peterhead and sweep away its eyesore image.
The atmosphere has become so tense at times that one shop was forced to hire a security guard after workers were intimidated by gangs of youths.
A series of studies and reports on Peterhead's main shopping area around Drummers Corner have been commissioned by Aberdeenshire Council.
And now the local authority is putting £100,000 up for grabs to groups who can produce initiatives to get rid of the "inhospitable and dreich environment" and improve safety.
The "Choose Peterhead" scheme – which is being spearheaded by community organisation and circus troupe Modo – will give residents their say on the future of the shopping precinct.
And, unlike previous proposals to revamp the town centre or ambitious plans to build multimillion-pound visitor attractions, Choose Peterhead will aim to deliver small-scale projects within 12 months.
Last night, Martin Danziger, Modo's creative director and a driving force behind the new initiative, said he wanted people to feel safe and able to enjoy the heart of Peterhead once more.
He added: "There have been various surveys and questionnaires over the past two decades which have led to some very fancy reports but very little difference.
"With us leading it rather than the council, I hope it's clear that the solution has to be community-led, it has to be the community doing things for themselves.
"In a small village, it would be obvious that local people would organise galas and the Christmas lights.
"But in Peterhead, there seems to be a reluctance to step forwards. It's hard to feel ownership of a large town."
To give themselves the best chance of delivering meaningful change, the Choose Peterhead team will focus on a key area of the town – from Erroll Street, through Drummers Corner, along Marischal Street, and down to Broad street.
And no time will be wasted considering projects that are deemed unmanageable.
Mr Danziger said: "The difference between this and what's gone before is that we've been tasked with making changes, and before consultants were tasked with producing reports.
"We've been disillusioned before. There isn't going to be a bowling alley tomorrow in Peterhead. There isn't going to be a Marks & Spencer.
"But Drummers Corner could be a cleaner and greener space with seating that encourages people to talk to one another."
He added that safety was "already emerging as one of the big priorities for change" in the area.
The Choose Peterhead planners believe that increasing footfall through the town centre, and providing leisure and cultural activities at different times of day, will make it less likely that troublemakers will gather.
Options already under consideration are a community garden, revamped seating and lighting, pop-up shops and family-friendly activities.
The next step in the process is to "mobilise" local people and groups to suggest ideas.
In May, Modo will host an intensive four-day design event when urban planners and members of the community will work to finalise an action plan.