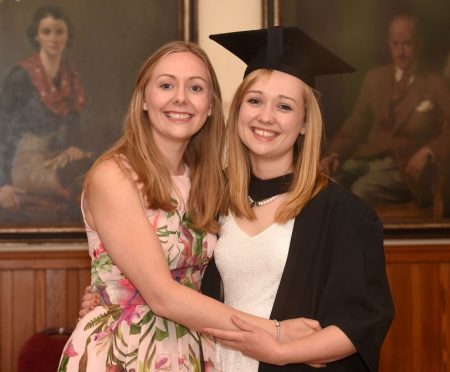 Faith and family are two of the pivotal factors in Hannah Johns' world.
The youngster from Huntly, who has just graduated in music, believes in a higher power and has derived inspiration from that source.
Oblivious to the ups and downs of university life, Miss Johns affirmed it was her faith which had allowed her to advance to the stage of gaining her degree.
The new music and education graduate said: "Music is very much part of my family, we were all brought up to be involved in music through the church and to show the gifts that we have.
"My faith is definitely what inspired me to use my musical talents and it has also allowed me to use my skills in university in a practical way."
Her mum, Marilynne Johns, is a music teacher and Miss Johns said that her family life was a driving force in inspiring her love of both music and education.
She will now follow in her mum's footsteps after securing a job as a music teacher at Forfar Academy.
The 22-year-old added: "My parents always had me and my two sisters up singing wherever we could and, as I have grown up, I have kept that with me.
"My faith got me through me degree, especially if I was stressed with an assignment or a performance. Having God there and supporting me the whole time through university and life on the whole in times when it wasn't easy has been a real comfort.
"When I have had those difficult times, I have been able to rely on God, he has put the right people in place for me to turn to and help me through.
"And now I am so grateful I have got this far and it has been amazing to share the experience with everyone here today."