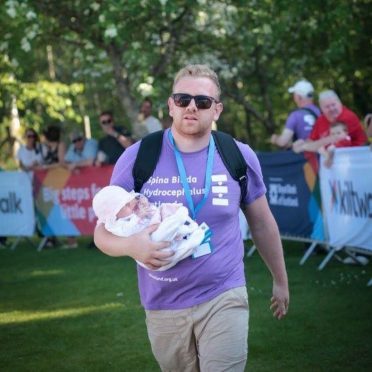 A Deeside family has raised £1,500 for a charity which helped their baby daughter battle a devastating spinal condition in the early stages of her life.
Banchory dad Martin McDonald was part of a team that embarked on a 26-mile challenge in order to collect money for the specialist charity Spina Bifida Hydrocephalus Scotland.
The 32-year-old became aware of the organisation earlier this year, when it supported his family after daughter Bella was diagnosed with the condition.
Mr McDonald was joined by his daughter's aunt, Anna, and uncle, Grant, on a sponsored Kiltwalk which spanned from Duthie Park to Potarch Green.
The family managed to raise an impressive amount of money for the cause, with sponsorship reaching around £1,500.
Bella was born in April with spina bifida and hydrocephalus. The diagnosis meant she had to endure two operations in the first week of her life.
The first was to close a hole in her back which was caused by the disease, and the second was to drain fluid which had built up in her brain as a result of the complex condition.
The money raised will go towards funding personalised home and hospital support for families in the north-east, and will assist newborn babies who suffer from the same difficulties as Bella.
Her mother, Abigail McDonald, said: "I am so very proud of my husband Martin, sister Anna, and Grant for doing the Kiltwalk and raising such a fantastic sum of money in the process."
She added the charity would remain important to the McDonald family, and that they would long remember the help they were offered.
Doctors were able to identify Bella's condition prior to her birth, and the Aberdeen couple received visits from SBH Scotland in the weeks leading to her birth.
Mrs McDonald added: "It has been an emotional rollercoaster, but with the support of the charity, I feel that I have been helped every step of the way."
SBH Scotland, which is celebrating its golden anniversary this year, expressed gratitude upon receiving the donation.
Deborah Roe, fundraising director at the charity, said: "The family should be very proud of what they have achieved.
"The fantastic amount of money they have raised will go a long way in helping us offer vital support to those affected by the condition."
SBH Scotland was formed in 1965 by a group of parents who had children with spina bifida and hydrocephalus and decided to band together to offer one another support.
Now, 50 years later, the charity has undergone a huge expansion and currently supports over 3,500 children, young people, adults, their family members and carers across Scotland.
More information can be found on how to support SBH Scotland during future fundraisers at
http://www.sbhscotland.org.uk/content/kiltwalk/
.
Alternatively, further information on raising money for the group can be found by contacting Holly Taylor on 03455 211 600, or emailing fundraising@sbhscotland.org.uk.