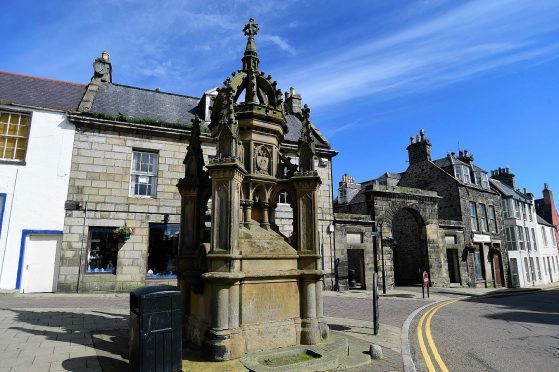 Aberdeenshire Council is set to spend £10,000 on a facelift for a north-east monument damaged by vandalism.
The Biggar Fountain in Banff is a B-listed structure, which was erected in memory of Walter Biggar who was involved in the local herring trade.
Conservation work on the sandstone and bronze fountain, which was built in 1878, was carried out two decades ago, but councillors have now called for renewed action.
A report to members of the Banff and Buchan area committee confirmed that the fountain was generally in a "good condition" with the carvings on the monument well preserved.
However, weeds and plants are now obscuring sections of the amenity in Banff's Low Street.
In her report to local councillors, historic asset surveyor Yvonne Clark said: "Some visual issues with the condition of the Biggar Fountain were noted, such as a large amount of biological growth, covering about 60% of the structure.
"There is evidence of erosion at the base of the fountain, causing the inscription to be hard to read. There are also areas where the pointing is missing, and work which was carried out in 1995 is beginning to fail and add an unsightly appearance to the fountain."
She added that the cause of the current damage was "vandalism" and "inappropriate materials" used to repair the fountain.
The renovation works will be paid for out of the local authority's historic asset maintenance budget, which totals £200,000 per year.
An initial cost estimate for the Biggar Fountain work is £10,000.
Members of the Banff and Buchan area committee will discuss the proposals on Tuesday.