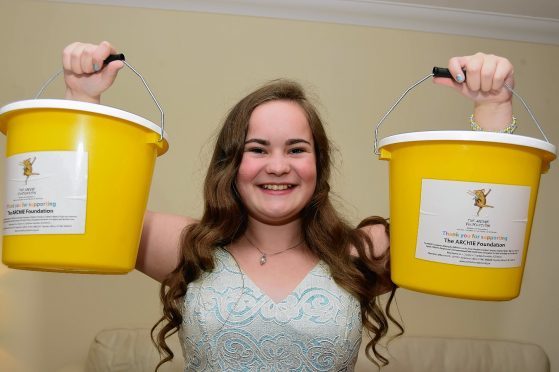 A north-east youngster who became pals with pop star Adele has turned her attention to fundraising for charity.
Chelsea Duncan made headlines in March when, while at a concert in Glasgow, she presented the Brit Awards winner with a homemade bracelet she designed after a stay in Aberdeen Royal Sick Children's Hospital.
The 13-year-old, from Peterhead, has now helped to raise more than £1,300 for the hospital's charity, the ARCHIE Foundation.
And last weekend, she hosted a variety show in her hometown where, as well as singing, she sold off her own batches of wild raspberry jam.
Mum Mhairi said: "She managed to arrange a lot of local talent and gather them together.
"She likes to be on stage, and she's very much into theatre arts, having taken part in the Peterhead panto and the Rock Challenge."
Chelsea had been admitted to Aberdeen Royal Sick Children's Hospital at the beginning of the March after suffering severe pain in her stomach and back.
Doctors examined the teenager, but despite countless blood tests and scans, they could not determine what was wrong.
However, during her stay, Chelsea was taught how to bead and, as a result of the "fantastic" care she received in the hospital, decided to sell some of her jewellery to raise money for ARCHIE.
This summer, she hit the fundraising trail again and this time enlisted the help of local businesses to make it a success.
"She's been in the town over her summer holidays getting local businesses to display her posters and got lots of raffle prizes as well," Mrs Duncan added.
"So far – and obviously there will be more from the show – she's just over £1,300. It's a running total, and she's still selling her bracelets."
Chelsea has said she was inspired to raise money for ARCHIE because of the care she received at hospital.
"I was terrified of needles before I went in there and the activities put on by ARCHIE helped take my mind off being ill," she said.
"They also allowed my mum to stay in a bed next to me. I just wanted to raise some money for them so they can continue to do what they have been for other children like me."