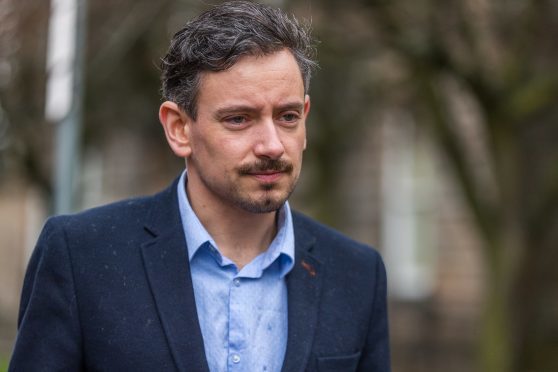 A disgraced former Moray councillor has admitted possessing a stash of photographs of naked children.
Sean Morton, formerly of Lhanbryde, pleaded guilty to keeping pictures of girls, possibly as young as 10 years old, on his laptop.
During extensive searches of the computer, police also found images of men and women engaged in sexual activity with dogs.
The former Labour politician was ousted from the council chambers in May's election after the allegations first emerged in December last year.
Following the vote, the 36-year-old described the allegations as a "smear on my reputation" in a social media post.
However, yesterday Morton was placed on the sex offenders register at Elgin Sheriff Court after he admitted his guilt.
After the hearing, the former councillor posted a message on Facebook explaining his actions. He said: "It's hard when you learn you made a simple mistake that years later has destroyed your life.
"Even harder still is taking responsibility knowing that your mistake makes you look like a monster. But however hard it may be, taking responsibility for your mistakes, as soon as you know you made them, is the right thing to do.
"I wasn't vigilant online. I am tired and I am broken."
Fiscal Alison Young revealed yesterday that police raided his Lhanbryde home to seize phones and computers after they were tipped off by a friend of the councillor.
Specialist officers discovered images on a laptop that had been "backed up" from a mobile phone, identified as "Sean's phone".
It is understood the pictures were viewed on the phone before being uploaded to the computer.
Mrs Young added: "The images were found in back-up files on iTunes on the laptop, which had originated on the phone.
"That phone was not able to be recovered by the police but the images have remained on the laptop."
Officers found four images of two naked girls, estimated to be between 10 and 15 years old, engaged in "sexual activity" with each other.
A further three photographs depicting adults having penetrative sexual activity with dogs were also found.
The images date back to 2013, the year after his election to Moray Council for the Fochabers Lhanbryde ward.
Defence solicitor Laura Greer chose to reserve statements in support of her client until the sentencing hearing on January 11.
Morton, who stood for Labour in General Election and Scottish Election campaigns, was immediately suspended by the party when the allegations came to light.
He fought this year's local elections as an independent – coming fifth out of eight candidates with 215 first preference votes.
Yesterday, the Moray Labour Party confirmed the former councillor was no longer a member after his membership lapsed. However, it is understood a disciplinary hearing could be convened if he attempted to rejoin the group.
Moray Labour councillor John Divers said: "He's maintained his innocence all along so this has come as something of a surprise in some ways. Sean is no longer a member of the party, though – it's as simple as that."
Morton, of Mayfield Street, Stirling, admitted a charge of possessing extreme pornographic material depicting adults engaging in sexual activity with animals between November 8 and 29, 2013, and a charge of "taking or permitting to be taken" indecent photographs of children on November 11, 2013.