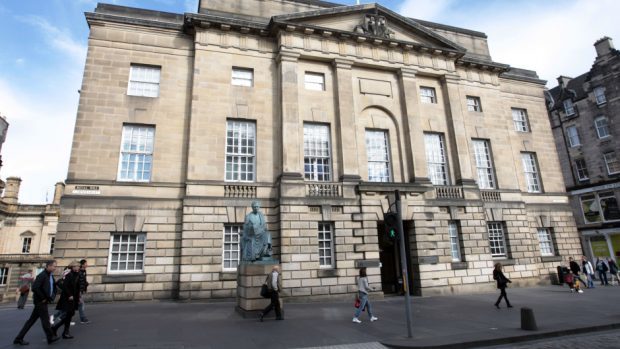 A "cack-handed" crook who robbed an Aberdeen betting shop wept and told a judge he had given him "a death sentence" moments after being jailed.
Kevin Bruce, 37, broke down when Lord Armstrong sentenced him to five years and 10 months at the High Court in Edinburgh.
Bruce, of Aberdeen, threatened then attacked staff members Catalin Kilim and Branimar Ayvazove during a raid on the Coral Eurobet store at the Cornhill Shopping Arcade on October 15, 2018 before making off with just £139.39.
His counsel, advocate Lorenzo Alonzi said his client had carried out a raid that was bound to end in failure.
The judge in turn told Bruce his crimes could only result in a lengthy custodial disposal, which prompted him to start weeping before shouting: "That's a death sentence you've given me. An absolute death sentence."
Bruce and his co-accused Anthony Jackson, 39, also of Aberdeen, were originally accused of robbing two bookmakers in the city, with prosecutors alleging the pair also raided a branch of William Hills in the city's Summerhill Court on October 17, 2018.
However, the Crown subsequently accepted separate guilty pleas from the duo – with Bruce admitting robbing the Coral, while Jackson admitted raiding the William Hill branch.
During proceedings last month, advocate depute Derick Nelson told the court Bruce was wearing a "mask or something similar" as he "slammed open" the doors of the Coral shop.
The court heard he entered the shop with another unidentified man, who was also covering his face.
Mr Nelson said Bruce and his accomplice held up carrier bags and demanded that the two staff members filled them with cash.
Bruce repeatedly shouted at the employees and he told them that he'd shoot them if they did not do as they were told.
He then stepped behind the counter and repeatedly demanded access to the safe. However, as it was on a time delay, it could not be opened and he escaped with just £139.39. He was arrested two days later.
Detectives swooped on him after discovering he had subsequently posted a message on social media stating: "I've done something stupid and you will probably see it on the news."
On October 19, Jackson pulled-on a ski mask before entering the Summerhill Court branch of William Hill with another man.
He pushed and threatened an employee as he demanded access to the cash register. The two men later escaped with just £200. Jackson was also arrested shortly afterwards.
Yesterday, Mr Alonzi told the court that Bruce had a drug problem which had contributed to his offending.
He added: "It was a pretty cack-handed effort that was bound to end in him being caught."
Jackson's counsel, Edward Targowski QC, said his client accepted responsibility for his actions. Lord Armstrong jailed him for five years and five months.
The judge said: "The perpetrators of such crimes must expect lengthy custodial sentences."