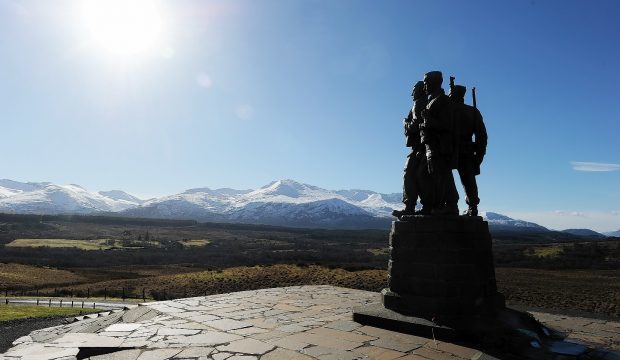 Officials tasked with looking after Scottish heraldry have told the "Lord of Lochaber" to stop using a "fraudulent document" detailing how he is allowed to use the title.
Staff working for the Lord Lyon King of Arms have instructed a man called Pierre Desprez to stop using a document called a letters patent because it is a counterfeit.
The document, which is displayed on an internet website states that the Lord Lyon, Dr Joseph Morrow, has allowed Mr Desprez to use the title of Lord of Lochaber.
"Lord" Desprez also claims he is entitled to use a set of arms.
However, the Lord Lyon states that the arms which Mr Desprez claims to be allowed to use was granted to the Burgh of Fort William on June 17 1930.
Now the Lord Lyon's court has demanded that Desprez stops displaying the document and stops using the arms.
On the Lyon Court's Twitter feed yesterday, the document was described as a "crude forgery".
The tweet states: "The document was not signed by Dr Joseph John Morrow, Lord Lyon King of Arms, nor was it sealed with the seal of the Court of the Lord Lyon.
"The arms appear to be arms granted by the Court of the Lord Lyon to the Burgh of Fort William on June 17 1930 as recorded at Folio 25 of Volume 29 of the Public Register of All Arms and Bearings in Scotland.
"Pierre Desprez has no right to use these arms.
"The Lyon Office draws to the attention of the public that the document is fraudulent.
"The Lyon Office has written to the address given in the fraudulent document drawing attention to these matters and demanding that Pierre Desprez cease and desist displaying it."
The Lord Lyon King of Arms is one of the Great Offices of State in Scotland.
He regulates heraldry and sits as a judge in the Court of Lyon, the oldest heraldic Court in the world.
Dr Morrow, the former vice lord lieutenant of Dundee, was appointed to the post in January 2014.
According to Wikipedia, the Lord of Lochaber was a title in the peerage of Scotland. Previous holders of the post included John Comyn of Badenoch, who held the post between 1302 and 1306. His uncle was John Balliol who abdicated from being King of Scotland in 1296.
The fraudulent document gives Desprez's address in France, while his website says he comes from a "seigneurial family having several lordships in the Somme, the Hautes Alpes and the Tarn et Garonne". It also claims he is descended by the male line of the Dynasty of Montfort of Brittany, Dukes of Brittany.