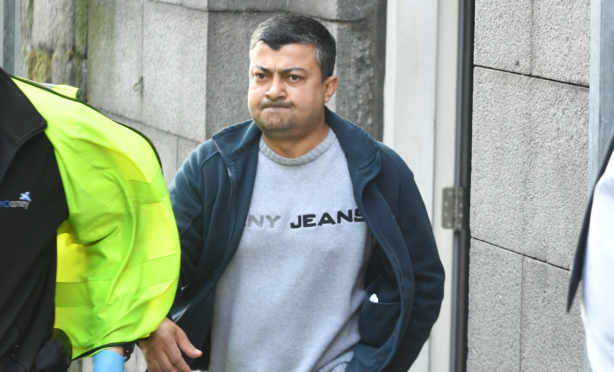 A taxi driver who raped a passenger on an isolated road after picking her up from a rank in Inverness has been jailed for six years.
Anwar Chowdhury, 41, collected his victim, who a court heard was "so drunk at the time that she was incapable of giving or withholding consent", took her to a remote road near Culloden Battlefield and committed the attack.
He later contacted a member of the woman's family and tried to persuade them to get her to withdraw the complaint.
The married father-of-one, originally from Bangladesh, denied raping the woman in August 2018 and attempting to pervert the course of justice in February last year.
A jury found him guilty of both charges in November, and yesterday at Aberdeen High Court Lord Uist sentenced him to five years imprisonment for the charge of rape, and one year for the attempt to avoid justice, to run consecutively.
Lord Uist said: "Lone women returning from a night out, particularly when they have had too much to drink, must be able to trust a taxi driver to see them home safely.
"You breached that trust in a disgraceful manner when you raped your passenger."
At the trial, Chowdhury denied his guilt and maintained that the victim initiated the sexual contact, it was consensual, and she was happy when she left his taxi.
But yesterday Lord Uist said his evidence was "ridiculous".
He continued: "You have all along denied your guilt of rape, and shown no remorse.
"The rape had serious psychological effects on your victim, who has suffered greatly as a result of it."
Defence counsel Graham Robertson said the 41-year-old had "effectively no previous convictions before this case", and he has spent his life as a "conventional hard-working man with a wife and child".
Mr Robertson said Chowdhury had penned a letter with "repeated assertions" that he had brought "shame, dishonour and hurt to his family".
Chowdhury was also placed on the sex offender's register "for an indefinite period".
Detective Inspector Diane Smith said: "Anwar Chowdhury abused a position of trust and responsibility to take advantage of a vulnerable woman for his own gratification when she was not in a position to give consent.
"His behaviour has been deplorable."
Liam Kerr MSP, the Scottish Conservative's shadow justice secretary, said the ordeal faced by  Chowdhury's victim reinforced the need for CCTV in taxis.
He said: "This case is a horrific crime and again highlights the need for protection in taxis.
"Having cameras in taxis would also form a source of evidence that could be used during disputes or when a crime is said to have been committed."
Andrew Macdonald, chairman of Inverness Taxi Alliance, said: "We very much hope in our hearts that this is an isolated case.
"I am open to putting in CCTV in all seven of my vehicles but we need help from authorities to enable this to be implemented across the board."