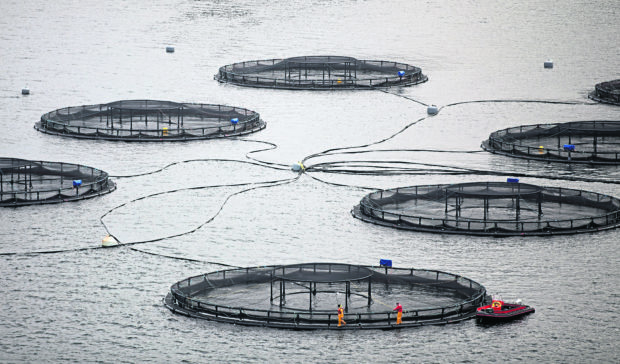 A total of 51 salmon farming sites in Scotland accused of having poor environmental protection measures have been "named and shamed".
The Scottish Environmental Protection Agency (Sepa) said these locations had been rated at risk, poor or very poor in a 2016 compliance assessment.
Conservation group Scottish Salmon Watch (SSW) yesterday named the farms after obtaining documents from Sepa following a Freedom of Information request.
SSW director Don Staniford said: "Salmon farms across Scotland are riding roughshod over environmental regulations.
"Even the best salmon farm Scotland has to offer – Marine Harvest's Loch Leven farm championed by Prince Charles and certified by the Aquaculture Stewardship Council – has been officially ranked by Sepa as 'poor'.  How embarrassing. Shame on Scottish salmon.
"Expanding salmon farming in Scotland yet further, with a doubling or even trebling by 2030, would be sheer lunacy.
"Sepa should immediately close down all salmon farms guilty of systematic non-compliance and perennial poor performance."
He added: "Scottish Salmon Watch can now reveal that Scottish salmon's worst operator is Norwegian-owned Scottish Sea Farms with 10 fish farms failing Sepa's compliance assessment in 2016 – with nine farms assessed as "poor" and one as "very poor".
"Norwegian-owned Marine Harvest and Canadian-owned Cooke Aquaculture closely follow both with nine failing fish farms, and Jersey-owned and Swiss-owned the Scottish Salmon Company with six failing fish farms."
All four firms, who were contacted for comment, are members of the Scottish Salmon Producers' Organisation (SSPO).
Julie Hesketh-Laird, chief executive of the Scottish Salmon Producers Organisation, said: "The salmon farming industry takes its environmental responsibilities very seriously.
"Sepa's 2016 compliance assessment scheme results published in October 2017 show that 85% of all Scottish salmon farms were rated excellent or good.
"Regrettably, there were some disappointing findings and the companies continue to work with Sepa towards improvements in these particular areas."
A Marine Harvest spokesman said: "The 2016 non-compliance at Loch Leven was not related to a significant environmental issue, but rather a non-compliance in cage configuration.
"The issue was rectified soon after, and is reflected in the 2017 Sepa compliance assessment, receiving an overall rating of good."