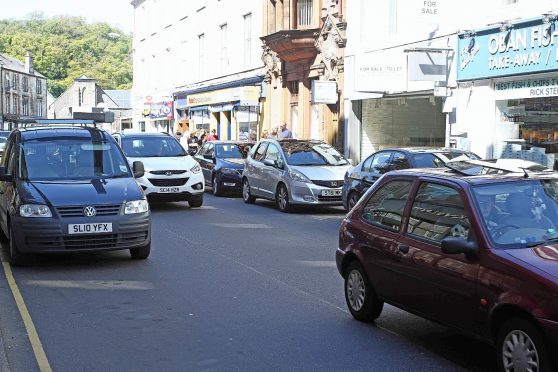 Proposals are being devised to bring changes to the parking charges in Oban.
A significant 76% of the entire Argyll and Bute Council parking revenue is collected in the busy seaside town.
And now, talks are underway between the council's councillors and officers to come up with a new pricing scheme for parking.
Kevin McIntosh, roads performance manager, gave an update on the plans at yesterday's Oban Lorn and the Isles area committee. He said: "We will discuss the proposals with councillors with a view to bringing them to the December committee meeting seeking approval to go to public consultation."
Roddy McCuish, lead councillor for the area, said: "We need to get on with it. The people of Oban are wondering what's going on. They want to know, when are you doing it? Where are you going to charge? I have no answers for them.
"We should have answers but we don't have them.
"I don't want to come to the business day and have someone saying, 'this is what is being done'.
"Parking is a very emotive issue in Oban Lorn and the Isles area and it is vital we consult on the right things."
Councillor Iain MacLean said: "We have been trawling this since February last year. We need some information. We know from the first quarter report that Oban achieved well above the £50,000 target for April May and June.
"Oban is the cash cow for the rest of Argyll, we provide the most revenue, it's something like three quarters of the parking charges collected in Argyll are in Oban.
"I am quite annoyed about it because it is affecting people badly in Oban. I hope we can take it quite seriously."
Councillor Julie McKenzie said: "I think we have to be mindful our constituents are very hot on this topic. The know there is no parity with parking charges in the rest of Argyll and Bute."
Councillor Elaine Robertson said that any extra parking cash being raised over and above targets in the Oban area should be reinvested in the town.
She said: "I understand we have budgets and targets. But when it goes above the target, that money to my mind should be coming back to this area to work on the roads issues that we have."