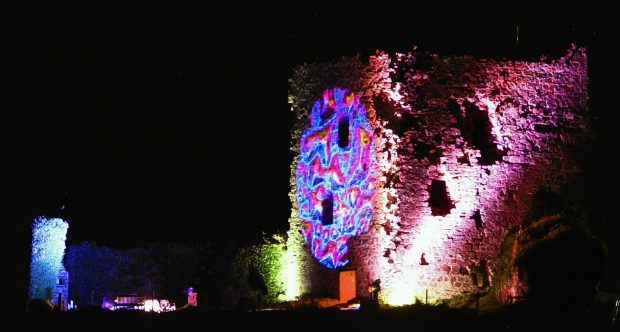 Oban Winter Festival came to an explosive end last night with a stunning fireworks display above McCaig's Tower.
The 10-day spectacular has included Christmas markets, craft fairs, delicious food and drink events and a host of eclectic entertainment.
Children, who had decorated their umbrellas, paraded their colourful efforts from the Corran Halls to Stafford Street during the March of the Brollies last night.
They were led by Oban High School Pipe Band to the sculpture at Stafford Street's new public area, which has been created as part of the Year of Architecture and Design.
The sculpture is shaped after the fashion of the windows in Oban's famous McCaig's Tower.
In a specially-organised surprise, the sculpture opened up like a Christmas tree while the band played beside it.
Participants in the parade then went to Oban Distillery for hot Pimms, food and music, before returning to Stafford Street to enjoy the fireworks and light show above the tower.
Pamela Lockhart, chairwoman of Oban Winter Festival, said: "It has been amazing, the whole thing has been very good. The markets have been busy. The market traders say they made more money than they have in previous years.
"There were 2,100 people through the market on Saturday.
"People were queueing at the Corran Halls today to enjoy their Victorian Teas. We have had street entertainers, ice queens, men on stilts.
"The children have been decorating their brollies for the March of the Brollies. Last year it rained and we had to cancel the final parade. This year, we decided to have the March of the Brollies and it is a beautiful night."
Festivities during the climactic weekend focused on St Andrew's Day celebrations, with a Tartan Dash, Haggis Hurling, and a ceilidh.
At Oban Distillery yesterday, some of the country's top butchers competed to see who could make the tastiest haggis.
Nigel Ovens, of Mearns T McCaskie in Wemyss Bay, triumphed in the People's Choice award, where members of the public gained the chance to taste the entries and cast their vote.
The Golden Haggis, judged by local chefs, was won by John Christie of Dumfries.