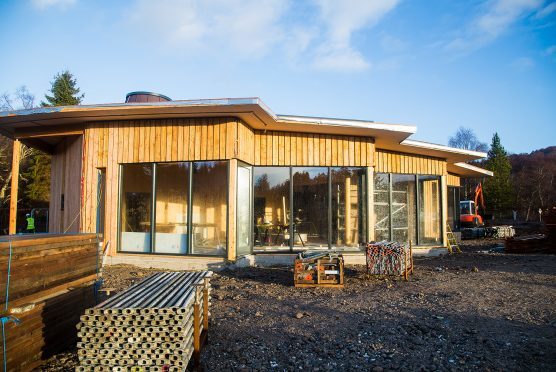 The wrapping has come off a new visitor attraction in Sutherland as work presses ahead for a spring opening.
Work began on the community-owned Falls of Shin site near Lairg in September.
It replaces a previous facility, dubbed the Harrods of the North, owned by Mohammed Al Fayed, which was destroyed by a fire in May 2013.
Designed by Sutherland-based CH Architecture and built by Inverness-firm William Gray Construction, the £1.4million new centre will employ up to seven people and be home to a cafe, retail space and toilets.
As well as the building itself the central plaza will be a venue for events and stands will give an opportunity for local producers and providers to showcase their products to visitors at peak times.
The building has been designed in the shape of a salmon – with many of the visitors to the area traveling to watch fish attemping to jump the falls on the River Shin.
Valerie Houston, implementation manager on the Falls of Shin Community Project at the Kyle of Sutherland Trust, said: "We are thrilled with the progress of construction and it's great to see the building take shape so quickly.
"Our focus for the New Year is on finishing the interior and making sure everything's ready for us to open in the spring, in time to provide a wonderful attraction for both visitors and locals."
The original visitor centre was a popular attraction and was nicknamed the "Harrods of the North" due to Mr Al Fayed's ownership.
The Kyle of Sutherland Development Trust bought the site earlier this year and are developing the new building on behalf of the local community.
The site has been redesigned to make car parking less prominent visually and safer for all visitors with a central grass plaza providing a venue for galas, farmers' markets, seasonal events, arts and culture.
As well as the new centre and landscaping, the project also involves improved signage which is being developed to encourage visitors to use the walks offered in the area by the Forestry Commission for Scotland.