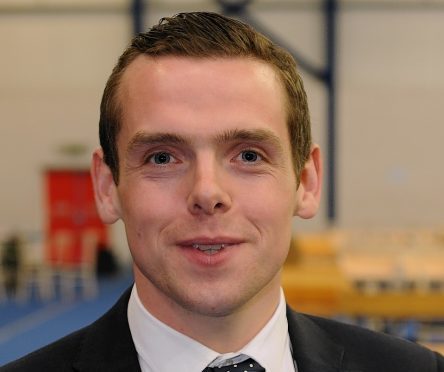 The crumbling condition of many schools in the north has been highlighted by new figures.
Moray Council was judged to have the worst school buildings in the country, with 35 of its 45 primaries and six of its eight secondaries in poor or bad condition.
More than 100,000 Scottish children are being taught in schools with "major defects," according to government reports.
Throughout the country, 74 secondary schools, amounting to one in five, and 302 primary schools, around 15 per cent, are officially in "poor condition."
Moray Council has a repair bill of more than £50million to bring its schools up to scratch following nearly a decade of neglect.
During the winter, a heating failure at Milne's Primary School in Fochabers reportedly led to pupils wearing jackets during lessons.
Last night Highlands and Islands Conservative MSP Douglas Ross revealed several boilers at schools in Moray are nearing the end of their working lives with replacement parts becoming harder to source.
Mr Ross said: "It's well recognised that Moray's school estate is badly in need of investment.
"Elgin High School has waited a long time to be upgraded but these figures show there are far more needing urgent attention.
"The council is looking at this but I would also hope the Scottish Government would look at the state of the buildings and support plans to upgrade them."
Last year Moray Council approved proposals to build two new primary schools in the south of Elgin and a project to build a replacement for Lossiemouth High School.
Among Highland Council schools, 72 of the 175 primaries and 13 of the 29 secondaries have major defects.
Dunvegan Primary School on the Isle of Skye is among the worst. It suffers from "significant deterioration" including flooding and regular drain blockages.
Instead of an office, the head teacher has been forced into a cupboard which he shares with the school clerical assistant
At Inverness last year, a pupil was injured when an old broken window smashed onto his foot.
A Scottish Government spokesman said: "The proportion of schools reported as being in good or satisfactory condition has increased substantially under this government, and the proportion of pupils educated in schools in poor or bad condition has fallen from 37 per cent in 2007 to 16 per cent in 2016.
"Investment plans are in place to improve the condition and suitability of some 149 schools currently in poor or bad condition, to the benefit of almost 45,000 pupils."