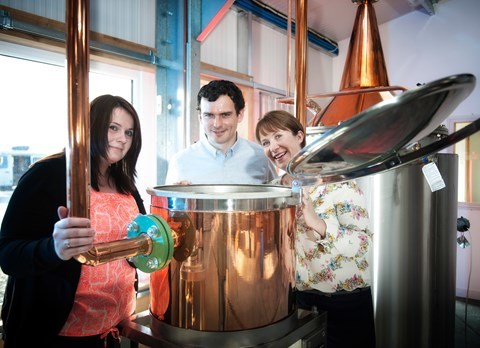 A Caithness distillery on the famous NC500 route has embarked on a major expansion to deal with its soaring popularity.
Dunnet Bay Distillery has experienced increasing demand for its products and rising visitor numbers using the popular North Coast 500 – marketed as Scotland's Route 66.
Now it plans to boost its turnover and international sales and create at least one new job, thanks to a £64,000 contribution from Highlands and Islands Enterprise (HIE) towards the £248,000 development.
The micro distillery was established in 2014 by Martin and Claire Murray and is the most northern distillery on mainland Britain. It produces Rock Rose Gin and Holy Grass Vodka.
The company has grown rapidly on the wave of a new-found popularity of gin and now employs 12 people.
The extension will enable Dunnet Bay Distillery (DBDL) to install another still for increased production flow. It also includes a new warehouse to expand storage facilities and a visitor centre to welcome more people and enhance the visitor experience.
Laura Gunn, business account manager with HIE, said: "Dunnet Bay Distillers is a dynamic and ambitious company that uses the Highland environment to produce and market their products. We welcome their plans for expansion. It will increase production, add to the area's tourist offering and help secure valuable local jobs.
"In a wider sense it also contributes to community resilience, strengthening security of a significant number of local jobs. The development complements the aims of the Caithness and Sutherland Regeneration Partnership in helping to diversify the local economy away from dependence on Dounreay. I am pleased we are able to support the plans and look forward to seeing them come to fruition."
Martin Murray of Dunnet Bay Distillers, said: "We are proud that in the past two years we have established a strong brand and business from our home in Dunnet.
"At present our business growth has been constrained by production bottle necks and not a lack of demand. This demand comes from overseas and also from our door step, thanks to a significant increase in numbers of visitors from the North Coast 500.
"The support from HIE allows us to capitalise on these growth areas, so that our products from Caithness can go further around the world on their travels. It also allows us to build a home for our product here in Dunnet, with a visitor centre and shop that will hopefully attract more visitors to the area."