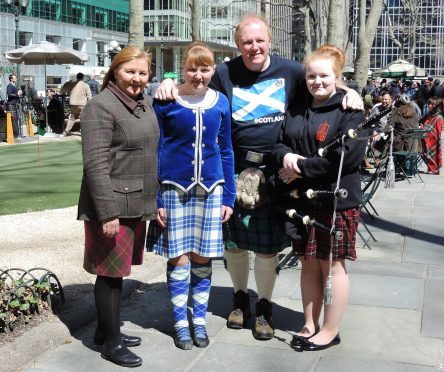 Two talented Highland sisters have proved that perfection is possible even with limited practice, after taking centre stage at New York's annual tartan spectacular.
On their first visit to the Big Apple, teenagers Elizabeth and Anna Reid earned their music and dance stripes in style performing with two leading lights of the city's annual pageant celebrating Scotland's heritage.
At short notice, Anna – a 14-year-old second year pupil at Nairn Academy – took her place among an elite international line-up of Highland dancers while her sister Elizabeth, 17, played the bagpipes with resident New York band Tir na nog.
Tartan Week has become a huge annual New York event, promoting all things Scottish and featuring a spectacular Saturday parade showcasing the arts. Next year's fixture will be the 20th.
With barely time for an hour's rehearsal before the big day, Elizabeth played with the band.
She explained: "My mum had posted about my sister and I, and Mitch, the drummer with Tir na nog invited me to play with them. My bagpipe tutor was impressed.
"It was all a bit last-minute. They gave me one month to learn a number of tunes.
"The tartan day parade was incredible and a great experience considering it was my first time playing in a pipe band. The best thing is it all happened in New York. I might have been anxious if I'd been playing by myself, but it was fine.
"I'd been asked to play with a local pipe band before but because my sister's a Highland dancer we just perform together. She picks things up fast, so she managed as well."
Anna performed with Shot of Scotch, a prestigious New York-based Highland dance troupe during this month's tartan day parade.
Their Russian-born mother Elena said: "I'm so proud of our girls. It was a great experience for us all. It was an amazing trip for us all.
"We were glad to see so many people of Scottish heritage at the parade and it was a glorious sunny day. It would be nice to take part in every parade."