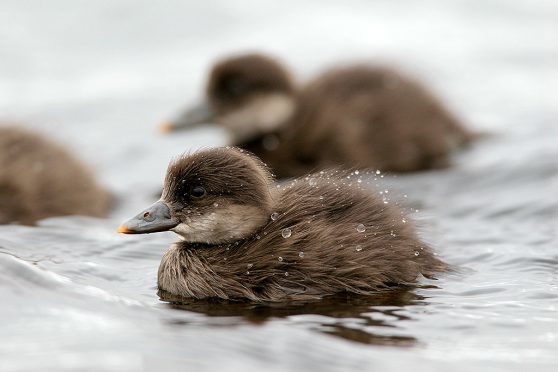 Floating islands made from old fish farm materials are being used in an attempt to save a rare duck breed.
Common Scoters breed on the edges of a small number of Highland lochs.
The artificial islands will be used to provide a safe haven away from predators.
It is hoped that the scoters will choose to nest on the islands and this will make the nests safer from the unwelcome attention of predators and the risk of being flooded.
The islands are being trialled at two lochs in Inverness-shire as part of the partnership between industry and conservation groups.
RSPB Scotland's Dr Alison MacLennan said: "Within the last 40 years the population of the now inappropriately named Common Scoter has fallen from several hundred pairs, with a wide distribution over the north and west of Scotland, to around 50 pairs found in a few isolated lochs. We are in real danger of losing this lovely bird as a breeding species in Scotland and I am delighted that this partnership has come together to help provide them with a future."
Research conducted by a partnership of organisations including the Wildfowl and Wetlands Trust (WWT), Scottish and Southern Energy (SSE), Forestry Commission Scotland (FCS), Scottish Natural Heritage (SNH), Blue Energy, the Ness and Beauly Fisheries Trust and RSPB , has pointed to a number of causes for this decline, many of which are linked to changing uses in the landscape.
Predators have been identified as having a significant detrimental effect on the survival of common scoter nesting attempts and their success in hatching ducklings.
The partnership group joined forces with Fusion Marine and Marine Harvest to produce floating islands that will provide the ducks with safer nest locations.
Arthur Campbell of Marine Harvest said: "We are delighted to support this project and particularly since the rafts have been constructed using materials recycled from some of our marine fish farms. The ducks may have come across the black pipes in their previous use as the walkways around fish farm cages at sea but we are hoping that they will take a second look at them now that they are disguised as heather-clad islands."