A specialist Highland college which supports students with learning disabilities has been visited by royalty.
HRH The Princess Royal met pupils and staff at Cantraybridge College near Croy in Inverness-shire.
The college is unique in Scotland, teaching a wide range of practical crafts and skills to young people.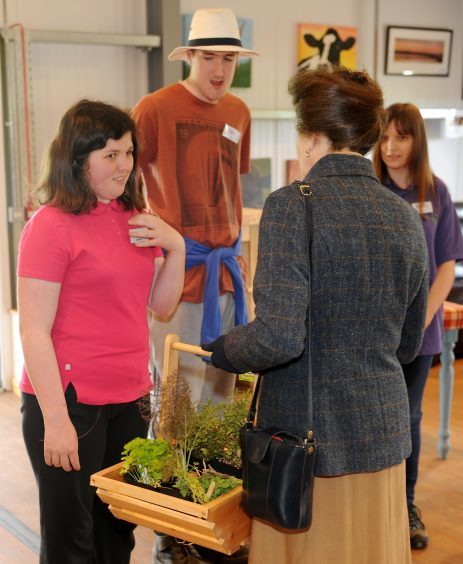 The college is based on a small holding and houses several animals, used for helping teach agriculture skills.
Princess Anne was shown the aviary and small animals section of Cantraybridge College as well as the market garden and the training cafe during a tour of the facility yesterday afternoon.
At the end of her tour she was presented with an Adirondack chair by student Ethan Milne, crafted by students in the woodwork section of the college.
Though the princess was cleared touched, the bulky gift proved difficult for staff to pack into the back of one of the waiting cars.
She was also presented with a basket of fresh produce grown on the campus and a book about the Scottish Exotic Animal Rescue charity which is based on the campus, presented by students Carol-Ann MacDonald and Clare Asher.
Miss Asher's parents Alister and Jill praised the college for boosting their daughter's confidence since she started in August last year.
Mr Asher, of Highland bakers Asher's, also managed to give Princess Anne a gift of a bag full of butteries as a gift.
He said: "She opened our bakery 15 years ago and said she liked our butteries so it seemed right to give her a gift."
Cantraybridge College chairwoman Sharon Ellon said they were"truly honoured" to have welcomed the princess.
She said: "She really did witness a typical day for us at the College. Our staff and students were working in the market garden and on the farm.
"Some students were in the classroom and others were training in the cafe.
"It was very important to us that she received a true impression of the work we do here which we believe is still pretty unique even after more than twenty years since we founded the College back in 1994. Her visit gave staff, students and their families a real boost."
Princess Anne was visiting the college in her capacity as Lord High Commissioner to the General Assembly of the Church of Scotland, a role to which she has been appointed by the Queen.