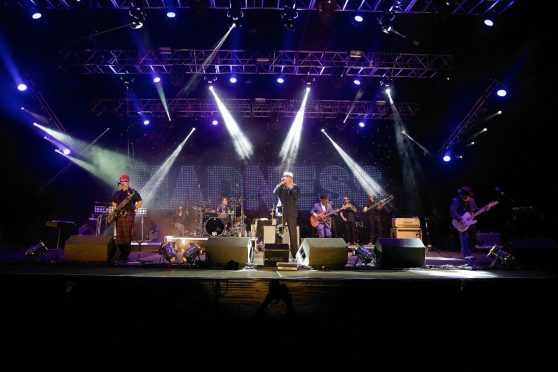 The sun has set on another "unforgettable" weekend of music, mud and marriage at the Belladrum Tartan Heart festival.
More than 18,500 revellers braved the event's "wettest ever" day on Friday, overcoming the conditions to enjoy a "totally magical" celebration.
And as the clean-up operation got under way yesterday at the Belladrum Estate, near Beauly, thoughts were already turning to next year' festival.
Headlined this year by Franz Ferdinand, Twin Atlantic, the Pretenders and Sister Sledge, the sell-out Tartan Heart Festival has grown rapidly from its inception in 2004.
KT Tunstall was among the acts to take to social media to praise the crowd as the proceedings came to a close.
"This festival weekend has been killer," she said. "Belladrum Festival you knocked it out of the park, the craziest festival crowd we've played to yet.
"Thank you for all your amazing love and energy, we are having a blast."
Glasgow rockers Twin Atlantic also thanked the audience, saying: "Unforgettable Belladrum. We love you."
Belladrum organiser Joe Gibbs reflected on another successful edition of the much-loved festival.
"The weather definitely presented us with some problems on the Friday. It was probably the wettest day we've ever had at Belladrum," he said.
"But it's a great way to test the systems on site and I think all of them performed really well. The public were wonderful in negotiating their way around the site.
"We put woodchip around the site and that seemed to have worked, and luckily we had a better day yesterday."
Asked for his highlights, Mr Gibbs said: "I think probably Sister Sledge, the Friday night headliner, was one that everybody was talking about afterwards.
"The new country and western stage performed very well and was very popular indeed. We now have 17 stages and they were all really busy and going great guns.
"I think people can now come and enjoy the big names and artists with wide appeal, but can equally enjoy these.
"We've had a lot of weddings in the chapel in the past, and we had our first 'Bella bride' wearing Belladrum tartan, which was lovely."
Mr Gibbs said the planning for next year's festival would get under way later this week.
"When I've had a few nights sleep we'll decide what to do next year. Hopefully we'll be back again and tickets go on sale in September," he said.
"I think we'll have to take a few days and think about whether there's things to change.
"We do that every year. It never stands still. There's always a way something can be improved."