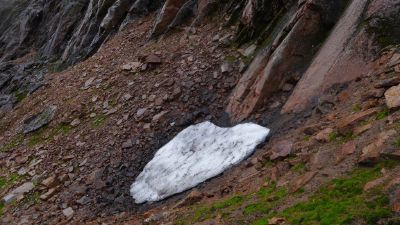 The longest-lasting patch of snow in Scotland could be about to melt away from a Highland hillside for the first time in more than a decade.
Iain Cameron, who seeks out and records snow that survives on Scotland's highest mountains, believes the patch known as "the Sphinx" only has days left.
Scientists say the patch at Garbh Choire Mor on Braeriach in the Cairngorms has disappeared only six times previously in the last 300 years.
According to records, the snow previously melted in 1933, 1953, 1959, 1996, 2003 and 2006.
In a post on social media following a visit to the site, Stirling-based Mr Cameron wrote: "Sphinx has a matter of days left. I'm displeased."
The Sphinx is one of only two patches of snow surviving in Scotland's hills this year.
The second patch at Aonach Beag is also expected to melt away over the next few days, said Mr Cameron, whose records of snow patches are published by the Royal Meteorological Society.
"These are then only two left in Scotland, but which will go first? Neither is likely to last past next weekend. Toss a coin time," tweeted Mr Cameron.
In August, Mr Cameron reported that for the first time in 11 years there was no snow on Britain's highest mountain, Ben Nevis.
The trend has been attributed to a lack of snow last winter.
In 2015, 73 patches of snow were found to have survived on Scotland's hills from the previous winter – the most for 21 years.
Garbh Choire Mor is described as Scotland's snowiest corrie because of the amount of snow it can hold even through summer months.
Corries are a hollow-shaped geological features found high in Scotland's mountains.
UKClimbing.com describes Garbh Choire Mor as "remote" and having an "alpine feel".
It also warns that it is a place to avoid in winter because of cornices, large overhanging ledges of snow, that form above the corrie.