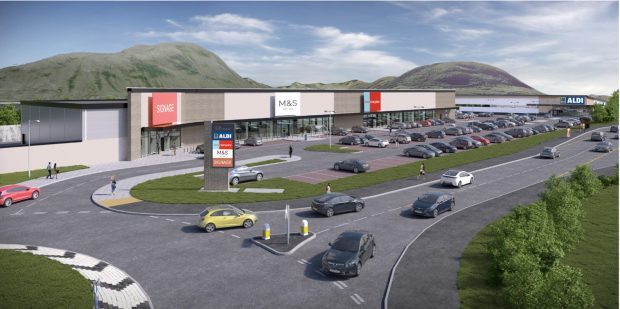 The first shops at Fort William's new retail park will be open in time for Christmas – with the developer revealing protracted roadworks will be completed by the end of this month.
Motorists have experienced delays while the new roundabout, which provides an entrance to the park and the town's aluminium factory, has been constructed on the A82.
But now, the developer, Morbaine, has confirmed that both M&S Food and Home Bargains will be up and running for local people before the festive season.
Aldi, the other confirmed outlet at the site, will follow close on their heels early in the New Year.
There is one 5,000sqft unit at the locale which is still to be let out, but Morbaine officials are in discussions with several retailers to complete the park.
The company also took the opportunity to thank local people for their support and their patience during the disruption caused through the construction process.
The roadworks associated with the construction are expected to be finished this month when pedestrian, private and public transport links will be completed, also creating a much-needed improved access to the Lochaber Smelter Plant.
Construction on the site began a year ago after a long and protracted process to gain appropriate planning permission, with the developer also required to alter the location of the roundabout to access the park and smelter due to unforeseen service clashes.
Morbaine director, Alex Brodie said: "I am delighted that both M&S Food and Home Bargains will both be open before Christmas, increasing the shopping options for people in Fort William and the surrounding area.
"The Aldi store will be open early in the New Year and we are hopeful of filling the final unit shortly.
"It has been a long process getting to this stage and I would like to thank local people and local councillors over the years who have always been incredibly supportive and helpful.
"With the construction and traffic management work almost finished, local people can now look forward to exciting new shops in the area.
"As well as delivering more shopping options, once the development is complete, it will employ a total of 120 people, in addition to the jobs which were created during the construction process."