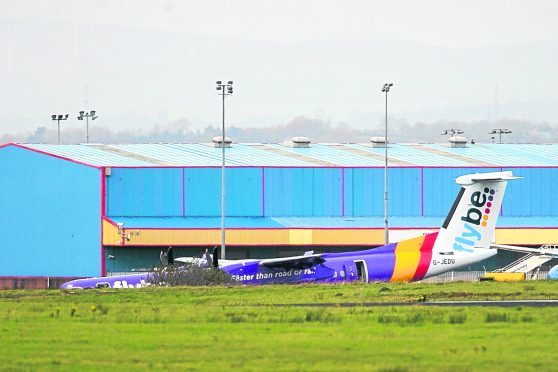 An investigation is under way after a Flybe flight between Belfast and Inverness had to make an emergency landing without any front landing gear.
The Bombardier Q400 was flying from George Best Belfast City Airport to Inverness when it was diverted to Belfast International.
Pilot lands Flybe passenger plane at Belfast airport with no nose gear – and just one person suffers a minor injury in emergency landing pic.twitter.com/Kb5Xt2KRc2

— Press Association (@PA) 11 November 2017
After flying in a circling pattern to burn fuel and reduce the aircraft's weight the pilot made a bid to land and successfully brought the plane down.
Emergency Services were scrambled to attend the stricken plane and to assist with offloading the passengers who were evacuated onto the runway safely.
There were 52 passengers and one infant, along with four crew members on flight BE331 when it ran into trouble after leaving Belfast at 11.20am yesterday.
Only one passenger was hurt and taken to hospital with what the airline thought was not serious injuries.
Eyewitness Ed Mclean posted online: "Saw it go over – a surprise to see a Flybe going to the International, he couldn't have flown any slower then I realised the nose wheel wasn't down.
"It finally dawned on me this plane had a problem when dozens of police cars, ambulances and emergency response vehicles went through the village."
A probe into what happened has already been launched and the Air Accidents Investigation Branch (AAIB) sent a team of investigators to Belfast last night, adding the investigation could last "between 10 and 12 months".
Brian Strutton, general secretary of the British Airline Pilots Association (BALPA) added: "Landing without a nose gear is a very difficult manoeuvre, but one pilots train extensively for.
"The pilots in this case appear to have done a sterling job of bringing the aircraft back under those circumstances.
"We expect the Air Accidents Investigation Branch (AAIB) will commence its work to look into this incident immediately, and we will support them in whatever way we can."
The aircraft involved in the incident is a twin-engine turboprop for medium-range flights and manufactured by Bombardier Aerospace.
Back in 2007 the manufacturer recommended that all aircraft with more than 10,000 flights due to issues with its landing gear after three incidents in Scandinavia.
A Flybe spokeswoman said: "Flybe can confirm that one passenger was taken to hospital with a minor hand injury following an incident involving one of our aircraft this afternoon which landed with its nose gear raised at Belfast International Airport at 1330 local time.
"There are no further reports of any other passenger or crew injuries.
"There were 52 passengers plus one infant on board and four crew members.
"We are sending a specialist team to Belfast to offer assistance and we will now do all we can to understand the cause of this incident."