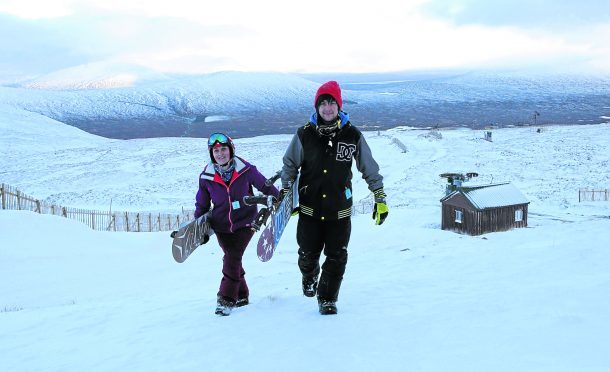 Dozens of skiers flocked to the slopes of Glencoe Mountain yesterday to enjoy a "great" first official day of the new season.
And other main ski centres hope to have their first runs open in a matter of days too if there are further snow showers.
Resort Manager Angela Dingwall said: "It is the first ski centre open, when usually we are the last with little gullies that need a bit more snow.
"It is great. We have to take every opportunity to get on the slopes. It is very early days at the moment but we have never opened this early before, in November."
Mrs Dingwall said: "There are lifts open at the Plateau Poma, Coire Pollach, and the Access Chairlift."
Several pistes are now open including the Old Mugs Alley, Plateau Run, Access Return, Beginners Run, Coire Pollach Run and the Sledging Area.
The turnout has also been good so far. Mrs Dingwall said: "We have about 28 people who bought tickets today [Tuesday] but there are some up there with season tickets with a fair mix of skiers and boarders, and people sledging lower down too."
"Over the weekend some people took the chairlift up and skied higher up. At the moment the forecast looks good, with it staying cold until the weekend."
Lecht staff wrote on social media that they had their "fingers crossed" for a little more snow and that there was the possibility of opening at the weekend.
While Cairn Gorm Mountain workers said there was not enough coverage to open for snow sports but that longer range forecasts looked "extremely promising".
Early snow falls in November had raised hopes among skiers despite the Met Office saying that initial forecasts did not show signs of a good season.
Although many ski centre workers remained optimistic.
Wintry conditions continued and dropped to low lying areas giving a decent covering on the mountains.
The Met Office said temperatures were expected to rise until the weekend.
Both Glencoe and Cairn Gorm Mountain have installed snow machines to boost their winter season this year.
Glencoe Mountain is the oldest ski centre in the UK dating back to 1956.