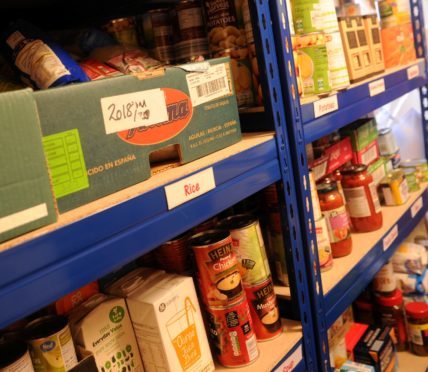 A foodbank opened at Culloden Library yesterday for those who cannot travel to the town centre for help.
It is also hoped that people using the facility will be able to use other services, like online access, that could help intheir timeof need.
High Life Highland (HLH) provided a community room in the library building while Ross-shire charity Blythswood provided the food and the volunteers to run operations.
It is the culmination of long-held plans by local churches in Smithton and Culloden that brought the plan forward to provide a local food distribution point.
Lorna Dempster, Foodbank Co-ordinator at Blythswood, said she was "delighted" at the opening, adding: "This will be our fourth Centre in the Inverness and Nairn Area.
"We are very grateful for High Life Highland's partnership in hosting this facility, which will make Foodbank much more accessible for people in Culloden and Smithton."
She added: "Obviously there is a huge need in that area and this will be of great benefit to those who can't always make it to the city centre for assistance."
The plans date back to at least the spring 2017 when an approach was made to HLH to consider facilitating the Foodbank at Culloden library.
Michelle Gowans, the HLH Network Librarian at Culloden, said: "We are really pleased to be a partner in this project.
"We feel that Culloden Library is at the heart of the community and will offer valued anonymity to service users."
Mrs Gowans believes that the venue could also help support those who could use more than simply food.
"The library is also ideally placed to offer many free additional services such as the use of computers or lending books that might be able to assist individuals in their time of need."
Blythswood Care volunteers will be on hand to offer a cup of tea and to listen to people collecting parcels.
Clients will also be able to use the Culloden library for additional assistance such as using computers or obtaining benefits information.
The foodbank is open on Monday and Friday from 11am to 2pm, vouchers can be acquired from social services, GPs, churches and Citizens Advice.
Shock figures released at the end of last year showed that foodbank usage in 2017 across the Highlands was on course to break records.
Hundreds more cases were expected over the festive season with around one in four of those getting food parcels being children.