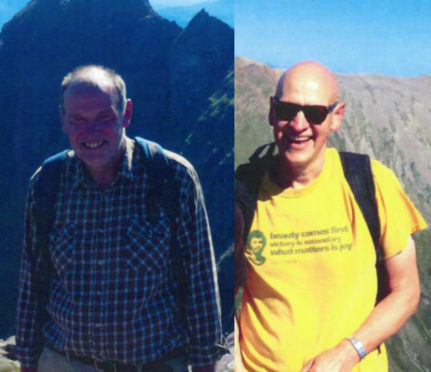 Two brothers were last night missing after going hill-walking in Wester Ross.
Neil Gibson, 63, from Nairn, and Alan Gibson, 56, from County Durham, were facing their second night in freezing, snowy conditions after they set off at 7.45am on Thursday.
A massive search operation was launched early yesterday in the Achnashellach area of Strathcarron.
It was stood down last night and due to resume this morning.
The brothers were reported missing late on Thursday night by a family member when they failed to return.
Land and air searches were being carried out by members of the Torridon Mountain Rescue Team, Kintail Mountain Rescue Team, RAF Mountain Rescue Team, SARDA dogs and the Coastguard helicopter.
A police spokesman said: "It is understood that they were planning to walk in the area of Achnashellach and have a black Pointer dog called Archie with them.
"If anyone was out walking in the area of Achnashellach yesterday and recalls seeing two men we would ask that they call in with information."
Both men are from the Nairn area originally. Their late father, Alexander Gibson, who died in 2004, was a minister.
Neil Gibson, a former golf coach, previously worked for Nairn Golf Club.
In 2013 an American golfer credited him for saving her life after she had a heart attack on the course.
Mr Gibson persuaded retired New Jersey attorney Marilyn Holter to get medical treatment after she became unwell and drove her to the town's hospital.
He moved back into Nairn from Auldearn about two years ago.
Last night Auldearn Parish Church minister Thomas Bryson said: "Neil is a super guy. He is a good walker and experienced climber who has done all the Munros – an old hand at it.
"He is a church elder and we missed him at a meeting last night. He is a retired golf coach who has moved back to Nairn.
"It is very upsetting that he and his brother are missing. I hope for the best for them."
Former Nairn Councillor Sandy Park knew the Gibson family from the town and said: "Let's just hope there will be a good outcome.
"As they are still missing that is of some concern. I am sure they would have been properly equipped so we will hope for a good outcome."