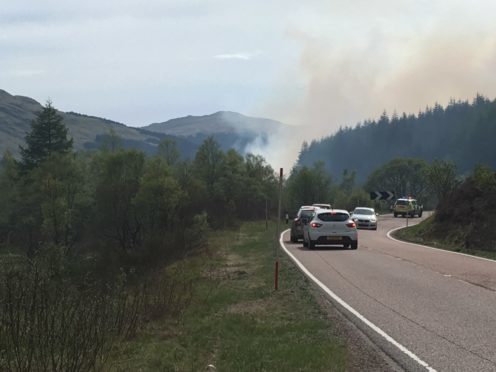 The fire service has issued a wildfire warning after crews battled two large blazes in different parts of the Highlands at the weekend.
Nine appliances tackled one fire on heathland in the Spittal area of Caithness while a trunk road in Argyll was closed for six hours due to a fire along the route.
Both fires took place on Saturday. Nine appliances were mobilised to Mybster Croft in Caithness after the alarm was raised at 11.42am. An area of ground 1,076 sqft was alight and eventually brought under control by 5.10pm with 30 fire fighters using two main jets and 10 hose reel jets.
Meanwhile in Argyll, four appliances were called out at 2.55pm to deal with a grass fire along the verge of the A85 Oban to Perth road. The route was closed between Tyndrum and Dalmally from 3.30pm until 9.30pm, with a diversion via the A83 at Tarbet in place.
Members of the public are being urged to play their part in preventing further potentially devastating fires.
Fire service area manager Bruce Farquharson is chairman of the Scottish Wildfire Forum.
He said: "A great many people will be enjoying the outdoors in the good weather, we urge everyone to make sure that they don't increase the chance of wildfire – be aware of the risks and follow the Scottish Outdoor Access Code.
"Wild and grass fires can start by the careless disposal of cigarettes and barbecues or campfires left unattended.
"They then have the potential to burn for days and devastate vast areas of land, wildlife and threaten the welfare of nearby communities.
"Many rural and remote communities, such as those in the Highland area, are hugely impacted by wildfires, which can cause significant environmental and economic damage.
"Livestock, farmland, wildlife, protected woodland and sites of special scientific interest can all be devastated by these fires – as can the lives of people living and working in rural communities.
"Just one heat source like a campfire ember can cause it to ignite and if the wind changes direction even the smallest fire can spread uncontrollably and devastate entire hillsides."
The fire service works closely with land managers, communities and other safety partners to prevent these incidents occurring.
Mr Farquharson added: "Many of these fires are preventable, and we again urge people to read our safety advice, and enjoy the weather responsibly."