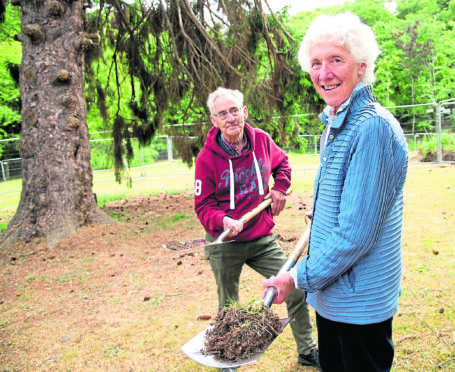 Construction work on a new £1.5 million accommodation block for adults with learning disabilities in the Highlands will begin this week following a ceremonial turf cutting ceremony.
The two-storey building is being built in the grounds of the existing L'Arche community in Drummond Crescent in Inverness.
Four en-suite bedrooms and a self-contained flat will be available for residents and there will also be sleeping accommodation for staff and care members for overnight stays at the facility.
The property will be the seventh building owned by the charity in the city.
Ben Chambers, a L'Arche committee member and project manager for the build, spoke about the importance of space and the benefits these will bring to residents.
He said: "The important starting point was we wanted to have more space to host a bigger community because there are more people trying to join the community and there is no space for them in the current house. The current house is a listed 100-year-plus-old building so there are limits to the physical structure for lifting equipment and disabled access. We wanted to make our new build that much more able to access and for care our community members – no matter what their disabilities as they progress in age.
"These can be simple things like the colour schemes and separating steps so you can very clearly see where the edge of the step is, assisted bathrooms, en-suite facilities, wet room type facilities with non-slip surfaces; there are a whole list of things that you never think about as lay individuals that you can do with a new build that's really quite difficult to do with an existing building."
The project has been in consideration for the last three years, with funds for the new build collected through the charities donations as well as a number of generous benefactors.
Works will be undertaken by building contractors Compass Building and Construction Services.
Kathy Fraser, who was one of the first local L'Arche board members, said: "It's a welcome, much-needed development as people with special needs require more state-of-the-art accommodation, particularly as they grow older. It will be fantastic for them to have somewhere new where they can feel comfortable, free and relaxed."