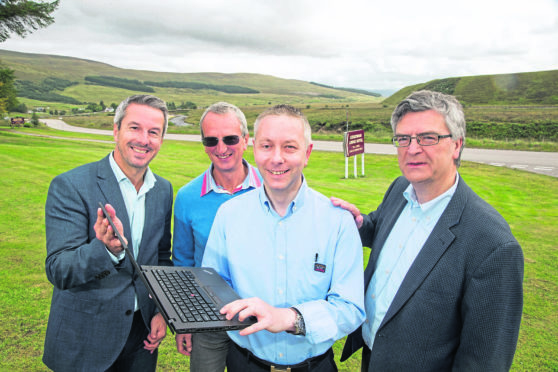 Ultrafast broadband has started to go live across a swathe of the Highlands in a much-needed step forward for connectivity in the north.
Around 140 homes from Achnasheen to Aultguish will have access to broadband that is 2,000 times faster than the current top speed by the year end.
This comes after a year of research by the voluntary group Garve and District Broadband (GDB) that concluded a resilient, full-fibre network was needed to "future-proof" internet links.
The biggest changes will be vastly improved reliability, capacity and speed allowing a hugely expanded online experience.
In Achnasheen, about 90% of premises can order ultrafast service with Achanalt, Lochluichart, Corriemoillie, Little Garve, Gorstan, Grudie and Inchbae to follow.
The project is being funded by Lochluichart Community Trust's windfarm benefit funds, Openreach, the Digital Scotland project and the UK Government's Better Broadband scheme.
Around two thirds of the homes will get top end Fibre-to-the-Premises (FTTP) and the rest will get a full-fibre upgrade with a possible future expansion to FTTP.
The move comes amid evidence the Highlands still lags well behind the rest of the country when it comes to both fast and reliable internet as well as mobile 4G services.
Earlier this year First Minister Nicola Sturgeon announced the £146million Digital Highlands and Islands would seek to connect almost 150,000 premises by next year.
ommunity spokesman Steve Jones said: "Fast, reliable broadband will bring huge potential to regenerate our scattered communities. It's a prerequisite for attracting families and businesses to the area, where the population has fallen in recent years.
"People now expect good internet as a basic. In essence, it will help us to build a closer and more integrated community."
Local businesses throughout the area look forward to the benefits of access to the new network.
Craig Duffield, a partner at Ledgowan Lodge hotel in Achnasheen, believes it will "make a huge difference," adding "many of our visitors are used to city broadband speeds and we'd love them to have the same experience when they visit us."
Robert Thorburn, Openreach partnership director for Scotland, said: "The challenges facing the Garve and District communities were phenomenal and they've worked incredibly hard to develop a unique solution."
"With a collaborative, multi-partner approach and a fierce will among the community to dig in and deliver, this is a truly brilliant – and unique – example of what can be achieved.