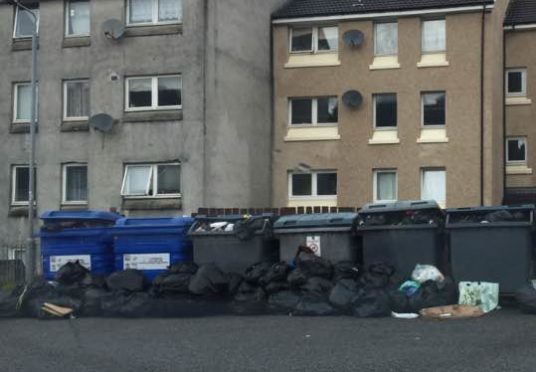 Residents of an Oban estate have been plagued by an "unbelievable stink" as piles of rubbish bags were left on pavements in the wake of three-weekly bin collections.
Helen Reid of Shuna Terrace posted a picture of the mess on social media on Sunday night before the bins were emptied on Monday.
Argyll and Bute Council went from fortnightly to three weekly bin collections at the end of 2016. Since then, Soroba, which is one of the most densely populated estates in the area, has experienced rats and rubbish bags strewn around the streets.
Mrs Reid, 70, said: "One minute it is getting better then the next minute it's back to square one.
"It really has all come about since the three weekly bin collections were brought in. Instead of sitting in an office talking about what to do, come up and see what's going on, and then make the decision. It might be easier for them.
"The smell was horrendous. It had been going on for a week before they were emptied. When the wind was blowing in the right direction it was quite strong.
"One of the reasons I think is because the bins are still on the road. They were supposed to go back behind the fence but that hasn't materialised.
"At night the cars are parked right up against them and people can't reach them so they drop them on the pavement.
"I don't know what the answer is. I think people could do more to help. They send small kids down with bags and the children can't reach the bins. It is a culmination of three different factors – the three weekly collections, the parking and the lack of bins.
"They put two extra recycling bins out but it is the waste ones we need."
A spokeswoman for Argyll and Bute Council said: "We have increased the number of recycling and general waste bins in Soroba. If people were to make full use of what is available, and support our recycling efforts as so many of our residents do, there would be enough spare capacity.
"This means everyone making use of all the bins available in their area, remembering that space is often in bins that are not the nearest to their property.
"We would also like to take this opportunity to point out that communal refuse bins should not be used for disposing of household furniture, white goods or other bulk waste. These should be taken to one of our recycling centres, or you can contact the council to arrange for an uplift."