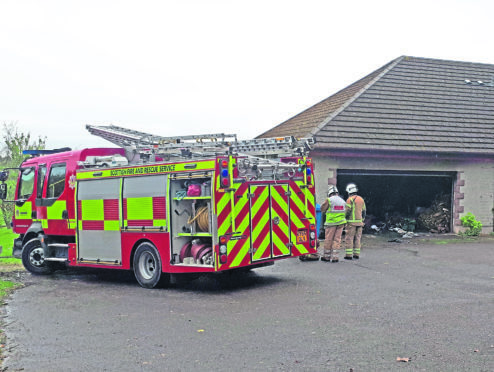 Units from the Inverness fire station saved a Black Isle home after bringing a blaze under control in a 30-minute operation.
The fire broke out in the garage of a house in Belmaduthy, north of Munlochy, with the alarm raised at 11am. There were gas cylinders nearby.
In what was a successful operation there was only "light" smoke damage and the house was left "habitable".
Station Manager Inverness Ross Nixon said: "It was a shock to the householders so our thoughts go out to them but they still have a standing house and no lives have been lost.
"The householders reported there was a fire in the garage and was potentially spreading to the house so three pumps from Inverness plus myself as officer in charged mobilised and got here very quickly.
"Once we got here we committed crews to the garage where the fire was and brought the fire under control in the garage and then searched the house to make sure no fire spread."
The station manager explained that "a lot of the information we rely on comes from the householders and we reached the gas cylinders in time," adding "before the fire intensified sufficiently to cause us a problem."
Mr Nixon said: "Operations took about 30 minutes up to that point, we extinguished the fire and ventilated the smoke, we cleared the area, and as you see fortunately we managed to contain the fire at the garage and it hasn't spread to the rest of the house so the householders are delighted with that."
He added: "The crews worked extremely hard in some arduous conditions so I praise them for that and hopefully things will get back to normality for the family as soon as possible."