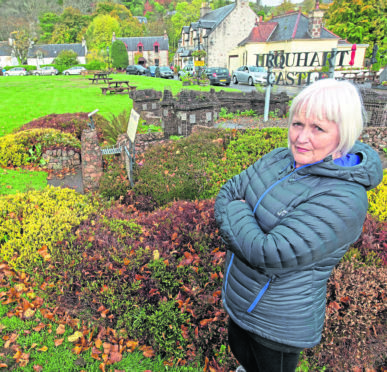 It is the focal point of any community Christmas.
But Highland Council has warned residents of more than a dozen villages that it can no longer afford to offer them a free tree for the festive season.
The council had in recent years had a deal with the Forestry Commission for 20ft Norwegian Spruce to supply communities in the inverness and Nairn area,
However, this year the Forestry's management agnecy, Forest Enterprise, has run out of that tpe of tree – and has little hope of any more in the near future.
The local authority found commercial options too expensive and instead urged local communities to erect their own trees by November 30 and council workers would dress them at the start of December.
At least 15 villages are affected from Croy and Ardersier to Foyers and Dores as well as Fort Augustus, Beauly, Cannich and Invermoriston.
Drumnadrochit will also not get a tree and Fiona Urquhart, Glen Urquhart community councillor, said: "I think that any village around Christmas without a tree or decorations is just going to look terrible – dark.
"I understand that it is the outlying villages that they would not be able to afford the trees. I would imagine that most villages would try to get their own tree and there are a lot of forestry workers in these places that could help with that."
Pam Lucas, chairwoman of Glen Urquhart, said: "Obviously the community will want to keep the Christmas tree and someone will look around for a replacement. Erecting and finding them is easy but at the moment no plans have been formed. I am sure we can acquire one from somewhere."
A council spokesman said: "In previous years we have provided free of charge Christmas trees to various villages in the local Inverness and Nairn Area.
"Commercial growers generally do not have 20' trees and those who do are looking to charge high prices. Therefore staff have written to advise communities that we will not be in a position to provide free Christmas trees this year.
"There will be no charge for dressing the tree and connecting onto the street lighting."
Forest Enterprise Scotland spokesman said: "The reason that we can't provide the trees this year is simply because we have exhausted our supplies of large (20ft plus) open grown spruce and have no more coming on stream. We advised the council of this back in May this year."
He added that festive trees are not the Enterprise's core business and the cost time and effort to maintain – something the lack the resources for.