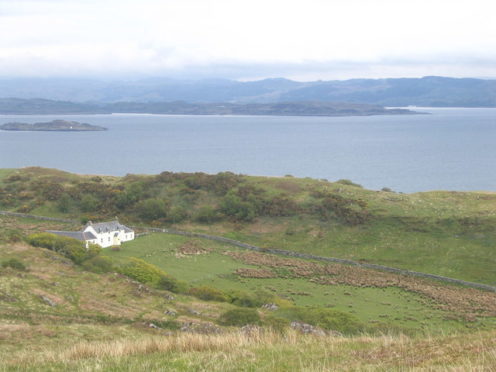 The son of celebrated author George Orwell has slated plans to build a fish farm off the coast of the Scottish island where his father wrote 1984.
Richard Blair has spoken out against proposals by Kames Fish Farming to raise sea trout off the west coast of Jura.
The writer and journalist famously created his dystopian vision of the future in a small bothy on the picturesque Hebridean island in the late 1940s, as he battled tuberculosis.
During his stay on Jura, Orwell wrote by day and spent the evenings with his son, going fishing and checking lobster pots.
He died in 1950, a year after the seminal novel was published.
His son Mr Blair, who Orwell adopted as a baby, said the west coast of Jura is unsuitable for and industrial-scale farm.
Initial proposals for the development outline plans for around a dozen cages, 328 feet in diameter, which will hold more than 600,000 fish.
Mr Blair said: "The natural beauty of the west coast of Jura is beyond compare.
"There are no fish farms around Jura, and this one should be opposed. I would be unhappy if it gets planning permission.
"The industry has not quite got the public onside."
An online petition against the proposals has attracted more than 2,500 signatures.
Kames Fish Farming managing director Stuart Cannon said: "Our proposal is at an early stage.
"Following comments – some encouraging, some less so – and in light of further consultation with the community, stakeholders and regulators, we may make adjustments to the proposal.
"We may carry out further surveys and, after extensive research and consultation, may or may not make a formal application to the regulators."