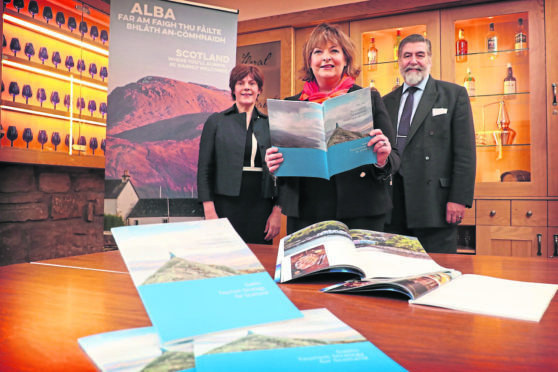 Gaelic could add more than £82 million per year to tourism, Visit Scotland revealed yesterday.
Cabinet secretary for culture, tourism and external affairs, Fiona Hyslop officially launched The Gaelic Tourism Strategy for Scotland 2018-2023 at The Scotch Whisky Experience in Edinburgh alongside Lord Thurso, chairman of VisitScotland and Shona Niclllinnein, chief executive of Bòrd na Gàidhlig.
The five-year plan is aimed at boosting the use of Gaelic in the tourism industry and using the language as a "unique selling point" to market to visitors.
The strategy will focus on using the language in everyday use with tourists, and developing the major benefits to businesses that come from the culture and arts associated with Gaeldom.
It will see the introduction of Gaelic ambassadors in every area of Scotland, and "Gaelic spoken here" badges for businesses, in a bid to promote the language to visitors.
The plan states that "the language, and its associated culture, provide Scotland with a unique selling point and an opportunity to develop and communicate the Gaelic related tourism offer more effectively to visitors".
Mrs Hyslop, said: "I'm pleased to officially launch Scotland's first Gaelic Tourism Strategy for 2018-2023. Gaelic is deeply rooted within Scotland's culture and heritage, including our music, place names, poetry, and more.
"The Scottish Government is committed to securing the future of the Gaelic language and this strategy focuses on the potential Gaelic has to add to the authentic experience we provide for our visitors.
"Tourism is one of our key growth sectors and, by increasing the profile of Gaelic in our tourism industry, we not only provide an authentic Scottish experience, but we also benefit the economy through attracting even more visitors to Scotland.
"This strategy aims to harness that potential."
Visit Scotland chairman, Lord Thurso said: "I am thrilled to welcome the Gaelic Tourism Strategy for Scotland as a part of our ongoing support of the Gaelic language. It gives a chance for visitors to delve further into Scotland's story past and present.
"It is vital that Scotland is able to provide a memorable and unique visitor experience to keep up with ever-changing consumer demands and Gaelic has the potential to be a key – but as yet under used – ingredient in the Scottish tourism and cultural offer.
"VisitScotland looks forward to engaging with partners and businesses to develop and market Gaelic as a tourism tool."