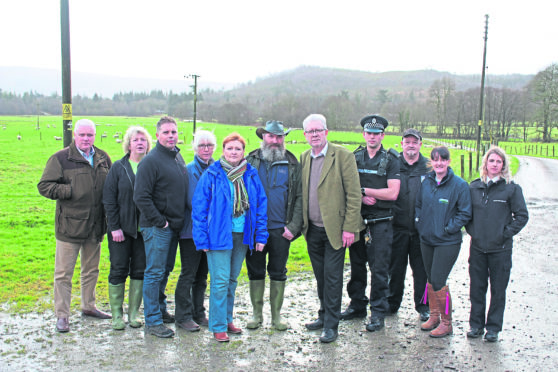 A farmer at the centre of one of Scotland's worst-ever cases of dogs attacking livestock has urged politicians to plough ahead with plans to toughen laws.
Brian Walker, of Carloonan Farm in Inveraray, Argyll, had 17 of his ewes savaged in the night.
While six sheep could be saved, four were already dead and seven were so badly maimed they had to be put down.
Mr Walker was left around £4,000 out of pocket as he never received compensation despite charges being brought against the dog owner, who was also allowed to keep the dogs involved in the attack.
The owner was sentenced to 80 hours community service.
---
>> Keep up to date with the latest news with The P&J newsletter
---
He said yesterday after meeting with senior policymakers that there was "now momentum with the changing of the law to tackle livestock worrying".
MSPs Michael Russell and Emma Harper travelled to Mr Walker's farmhouse yesterday to discuss the mauling, which took place in March.
Representatives from NFU Scotland, police, NSA Scotland, Scottish SPCA and Lochgilphead's Dalriada Veterinary Surgery also took part in the talks around the issue in general.
Ms Harper wanted to hear about the experiences of everyone involved in the case ahead of the forthcoming launch of an online public consultation on dogs attacking livestock.
She announced earlier this year in the Scottish Parliament that she would be bringing forward proposals for a Members' Bill to toughen the law.
According to figures revealed this year by NFU Mutual, the number of dog attacks on sheep has risen by 67% in two years, and cost Scottish farmers £330,000 in 2017 alone.
Ms Harper said: "It was important to meet with Mr Walker and to listen to his account of this horrific attack first hand on the farm where it happened. Mr Walker is just one of hundreds of farmers across Scotland whose farms are affected by dogs chasing and attacking their livestock every year.
"The farmer in this case has been left out of pocket by £4,000, which doesn't include the future money the offspring and future generations of the now deceased ewes would have raised for the farm.
"What was particularly distressing about this case was the number of sheep attacked and the extent of the injuries which were mainly focussed on the faces of the sheep involved. The 11 sheep which died as a result of this attack, as well as the six who survived, would have went through an unimaginable amount of trauma and suffering during this prolonged attack.
"I would like to thank Mr Walker, Mr Russell and the other organisations involved for attending the meeting and I would encourage farmers from across Scotland to email or phone my office with their stories or experiences of dogs attacking livestock and their views on what new legislation should look like."
Mr Walker added: "I would think today was one of the most significant round-the-table discussions there has been in Scotland to discuss the livestock worrying issue and it gave everyone an opportunity to consider the changes in the law which are required to both deter future attacks and to compensate farmers like myself when such an incident occurs.
"I feel there is now momentum with the changing of the law to tackle livestock worrying and because the last significant law in this area [Dogs (Protection of Livestock) Act 1953] was passed 65 years ago, this feels like a 'once in a lifetime' moment to get this legislation right."
Facing the consequences 
An Argyll man was sentenced to 80 hours community service for allowing four dogs he had responsibility for to seriously injure and kill a total of 17 sheep.
Nicholas Rowley, 56, of East Princes Street, Rothesay, pled guilty to the offence at Lochgilphead Sheriff Court under the Dogs (Protection of Livestock) Act 1953.
It took place on farmland at Inveraray on March 4.
Sheriff Thomas Ward sentenced Mr Rowley, formerly of Lochgilphead, to an 80-hour community pay back order in September, to be completed within three months.
The sheriff told the court he acknowledged that Mr Rowley was in no position to pay either a fine and/or any compensation to the affected farmer. He expressed frustration that under the current legislation he was unable to impose a prison sentence, nor could he disqualify Mr Rowley from keeping dogs.