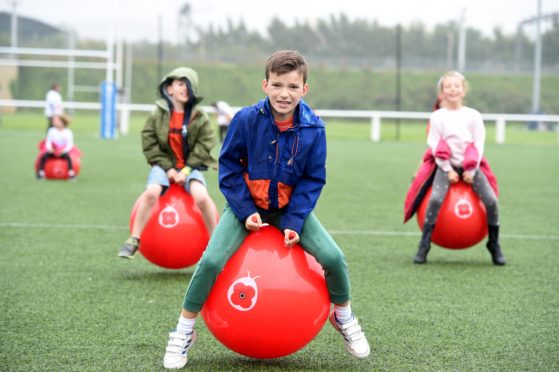 Individuals across the Highlands are bouncing their way to victory to help raise thousands of pounds for an Armed Forces welfare charity.
Schools, nurseries, hospitals, job centres and various other groups will take to their space-hopper's as part of Poppy Scotland's latest fundraising challenge 'The Big Poppy Bounce' which aims to raise thousands of pounds to help veterans bounce back into civilian life.
Girl guides from the 4th Wick Guides will host their Bounce for Poppyscotland on Friday, June 28 to give back to those who gave so much.
The group said: "We owe the veterans so much – it's the least we can do."
Meanwhile, Whalsay School in Shetland have already completed their Bounce raising a staggering £135 for Poppyscotland.
The campaign has been launched in the run up to Armed Forces Day later this month.
Poppyscotland's Head of Fundraising, Gordon Michie, said: "Armed Forces Day takes place later this month, and this is a chance for the public to get behind our brave men and women who make up the Armed Forces community.
"Poppyscotland exists to support those who have served, those still serving and their families, and The Big Poppy Bounce will help our veterans bounce back into civilian life. We are encouraging families, youth groups, schools and friends across Scotland to organise their own Big Poppy Bounce event before the end of the month.
"We can provide some space hoppers and then it's up you as to how you want to bounce. For example, you could have a bounce race over 100 metres, or challenge people to guess how many bounces you can rack up in five minutes. You can hold your event at your school, your work or your local hall – or somewhere as adventurous as you like!"