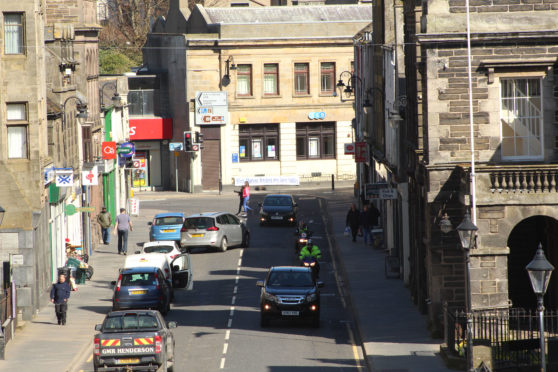 North communities are racing against the clock to bid for a share of a new Scottish Government Town Centre Fund.
Highland has been allocated a total of £2.9m from a £50m capital pot, and has apportioned more than £2.8m of it so far to be spent in communities of 1,000 people or more.
The towns must bid for a share of the pot which the Scottish Government says is to encourage towns to diversify and flourish, giving new purpose and creating footfall through 'transformational' projects.
But projects must be tender-ready by November and the money spent by March 2020 or returned to the Scottish Government.
Highland Council, through its area committees, will decide which projects are successful and is looking for tenders to be issued in early November.
In Caithness, the £265,290 fund is being competed for by Wick and Thurso.
For Wick, the money is crucial in its ambition to regenerate its town centre -described by its own councillors as 'uninspiring, cold and dominated by concrete.'
Councillor Nicola Sinclair said: "We've been working on projects for Wick for the past two years.
"The ones we're taking forward include tackling derelict buildings and empty shop units, a shop front grant scheme to help owners improve their premises and work towards a coherent visual identity for the town centre, and a resurfacing and landscaping of the Riverside Car Park to function as a key hub for visitors."
Thurso Community Development Trust (TCDT) is basing its bid for the fund on its strategy to develop tourism and make the town a destination as well as a gateway to Orkney and the NC500.
Joan Lawrie, TCDT's project manager said: "We're lucky that most of our shops are independent, but they're on the brink.
"We need to make sure they can keep going so we're looking at grants for shopkeepers to help them take care of our oldest, most architectural buildings."
In other parts of Highland, NairnBID's Michael Boylan said: "We have relevant projects which would make a positive impact and look forward to having further discussions with Highland Council and others on how this money can make a difference to the town centre, its businesses and the local community."
Smaller communities are rallying to discuss the possibilities offered by the fund.
Conon Bridge is one of 14 towns within Ross & Cromarty earmarked for a share of the £982m allocated to the area.
It has convened a public meeting to discuss ideas, but faces the prospect of not being ready within the deadline.
Community council secretary John Bruce said: "It's all happened very quickly with not a lot of lead-in time.
"Whatever we do needs to be well-thought out and costed with a proper business plan."