Council clears up after 'severe flooding' in Dingwall
By
Gregor Aiken
July 11, 2019, 12:31 pm
Updated: July 11, 2019, 2:32 pm
The Highland Council is clearing up in Dingwall after last evening's severe flash flooding in the town.
Roads affected in and around Dingwall were the A834 from the traffic lights at Newton road and High street Junction towards the Police station and West end. The A834 was reopened late last night. The road behind the Main Council Offices on High Street were closed at Gladstone Avenue at the entrance to the rear car park. Gladstone Avenue remains closed this morning.
All available Council operatives and resources were on site dealing with the flooding issues and Boggan Burn levels have returned to normal for the time being. Roads and infrastructure are being assessed for damage today.
Sandbags were made available outside Dingwall Police station, and outside the Council's two depots at Craig Road and Greenhill for members of the public to collect if required. Sandbags were also delivered by Community Services staff to the most severely affected premises.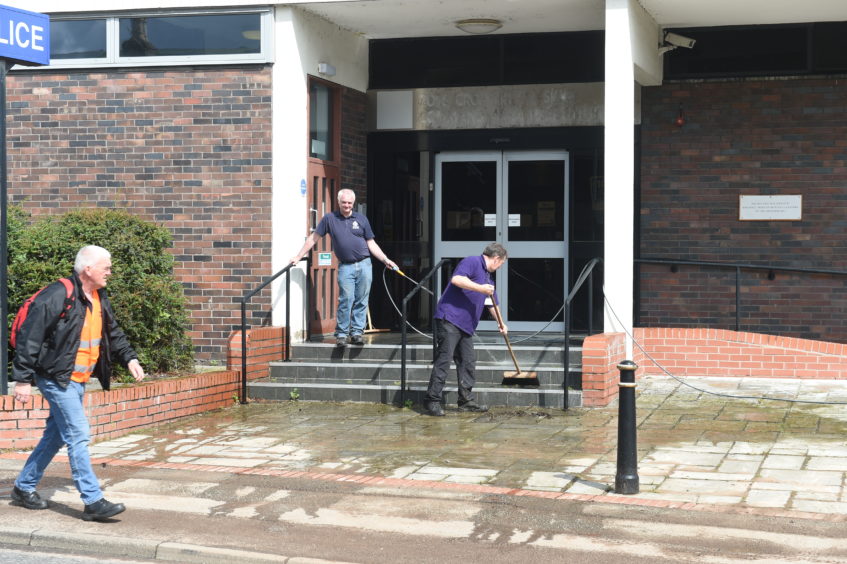 The public are reminded to only take sandbags on such occasions, if they are in direct danger of being flooded as the Council has a limited resource of sandbags and these need to be prioritised for those most in need. Additional supplies of sandbags were delivered from Inverness as all local Council staff were dealing with the flooding.
Tracey Urry, Highland Council's Head of Roads and Transport said:
"Since the last severe flooding in Dingwall in 2006, The Highland Council has invested considerably in flood defence measures including the installation of video monitoring and trigger alarms for flooding. The culvert and associated screen, when last inspected on Monday and again yesterday morning was clear of all debris.
"The sheer volume of rainfall last night, over a very short period, caused large amounts of debris, including plastic pipes, to be washed down stream contributed to the flooding. This extreme volume of water combined with a very high tide at 7:30pm last night were factors in the flooding."
Highland Council's Head of Infrastructure, Colin Howell added:
"We are currently undertaking a flood study for Dingwall as the area is identified as a 'Potentially Vulnerable Area' by SEPA.  Our Local Flood Risk Management Plan identified a flood study in Dingwall as a priority and monies were made available in the Council's capital programme to undertake this study.
"Flooding in Scotland is a plan-led and prioritised process, with funding allocated from Scottish Government.  In the last cycle of funding Highland Council secured three schemes – Smithton and Culloden, Drumnadrochit and Caol near Fort William.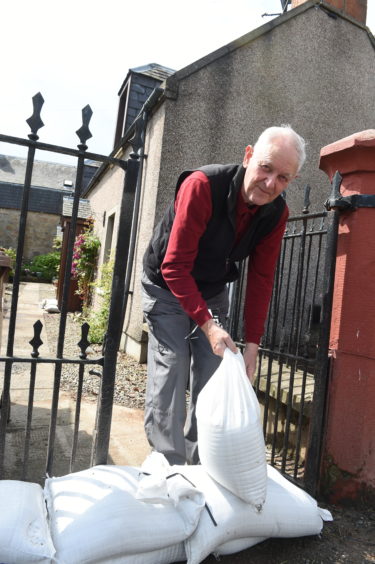 "The next call for prospective schemes will be in December of this year, and our proposals for Dingwall will be part of our submission.  Flooding in Dingwall is a well-known problem, and we await to see if funding for such flood alleviation will be forthcoming from Scottish Government."
Councillor Alister Mackinnon, who attended the scene of the flooding with other ward members and the Highland Council Chief Executive, said: "I would like to thank all those involved in dealing with the flooding last night and the clean up this morning. Our staff have been fantastic and some have been working all night long. The flooding was as a result of very extreme weather and a combination of factors. Officers are working with partners to plan and prepare for the impact of any further weather related incidents during the Yellow weather warning."
Residents are reminded to be aware of flood alerts and weather warnings and to make preparations to protect their private property. The Council also urges all residents and businesses to ensure that loose materials are not stored or fly-tipped near to water courses which can cause blockages in the event of extreme weather.