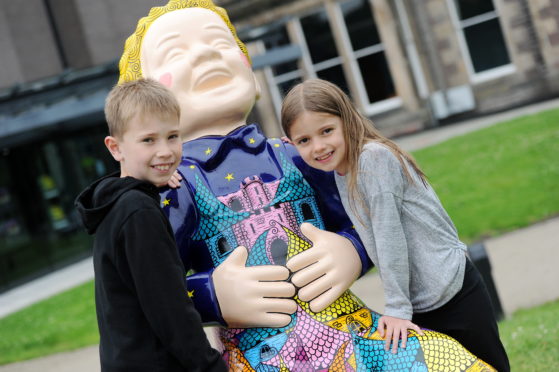 An artist has spoken of the inspiration behind her masterpiece as thousands of Oor Wullie fans go in search of the statue she created.
Illustrator Suzanne Scott is one of several artists whose designs form part of Oor Wullie's Big Bucket Trail, the colourful project which has delighted fans of the mischievous comic strip schoolboy by placing replica versions of Wullie across the nation.
Her creation, Wullie's Technicolour Dream Dungarees, is sponsored by the Press and Journal and is one of 10 which have been dotted around Inverness.
Scores of enthusiasts have flocked to Eden Court to have their photograph taken with the work of art.
The artist said the inspiration for her design came from the desire to encourage youngsters to "use their imaginations".
She said: "Wullie is sleepy after a long day playing in the park and climbing trees, he's put on his favourite jammies – his Dream Dungarees and starry night shirt – and starts to fall asleep. His hair turns into the moon and he nods off.
"Oor Wullie's dungarees are covered in rainbow houses and castles, and he dreams of all the people who live inside.
"He also dreams of all the animals he saw in the park that day, rabbits and hedgehogs and more."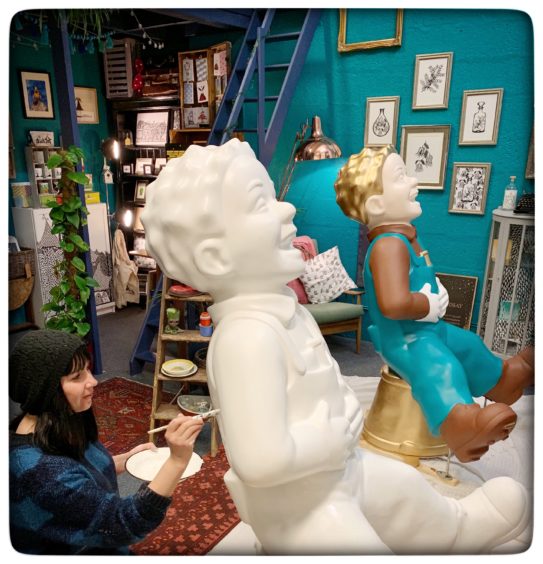 Miss Scott first joined the initiative, which was pioneered by the Archie Foundation, in 2016 after being asked by the charity to create the first sculpture for the trail.
It remains a prominent feature at DC Thomson's headquarters in her hometown of Dundee.
She then went on to take up the role of art director for the trail, overseeing the placement of sculptures across the country.
She said her own sculpture was "particularly difficult to paint".
Miss Scott added: "I really enjoyed adding in all the detail, like the thousands of tiny roof tiles, and relished in completing the challenge of getting the complex designs to come together in the most awkward places."
The trail will run until August 30, before the Oor Wullie sculptures are put up for auction to raise funds for sick children across the north and north-east.
Wullie's Technicolour Dream Dungarees is one of 200 statues on display across Scotland.
Miss Scott added: "I love when you see people's reactions to the sculptures on the streets, seeing the smiles and how they bring people together.
"Witnessing someone smile when they see my work is something very special."