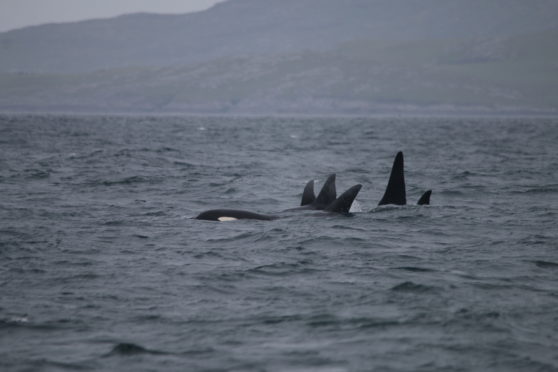 Investigations are ongoing by a marine conservation charity to identify a pod of killer whales spotted in the Western Isles.
The group of nine killer whales – also known as orcas – were first encountered near the island of Vatersay in the Outer Hebrides in June last year during the Hebridean Whale and Dolphin Trust's annual marine research expeditions.
Despite extensive research by the trust and various partner organizations and several sightings of killer whales in the Hebrides' in recent weeks, their identity remains a mystery.
Researchers have since suggested these animals may belong to part of a wider offshore population of the species roaming Scotland's waters.
Dr Lauren Hartny-Mills, the Trust's Science and Policy Manager, said: "Securing good photographs of these killer whales has allowed us to carry out some detective work using photo-identification techniques. This involves matching identifying features on individual animals to database records to see if they have been seen before.
"But despite our collaboration with other organisations and experts to identify the animals, the pod remains an enigma.
The unidentified group – which included two large males and two juveniles – were first sighted just 330 yards away from the charities' research yacht Silurian.
Team members observed the animals for around 30 minutes, with one of the males even swimming close enough to the vessel – built in Seattle in 1981 – to investigate those onboard.
Dr Hartny-Mills says the charity is hopeful the group will return during their 2019 expeditions to help towards pinpointing their origin.
She added: We're hoping to encounter these killer whales again during our 2019 expeditions, and with help from our colleagues across Scotland and beyond, we really hope to find a match and learn more about this group."
Two well-known communities of killer whales have been spotted in Scottish waters in recent times, including the West Coast community – sighted along the west coast of the UK – and the Northern Isles group which is commonly seen around Orkney, Shetland and the north coast of Scotland.