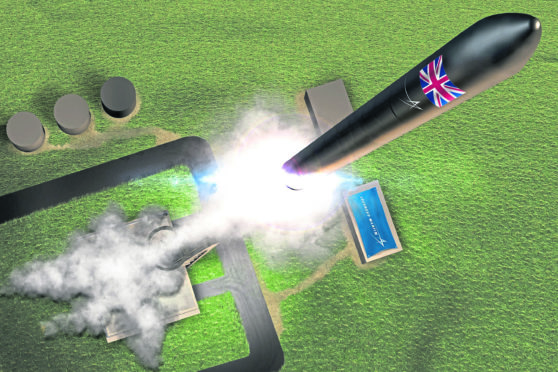 An official report has cast doubt on how rising costs of a multi-million pound plans to build a spaceport in Sutherland will be met.
Development agency Highlands and Islands Enterprise (HIE), which is leading the project and has committed £9.8million of its own funds to it, is said to be in "active discussions" with the Scottish Government and the UK Space Agency (UKSA) on the issue.
Last night HIE said balancing the requirements of launch companies that plan to use the site with the need to keep development costs at an "appropriate level" was a "key challenge".
The agency is poised to kick start the planning process for the vertical launch facility on the A'Mhoine peninsula by submitting a proposal of application (PAN) notice to Highland Council this month.
HIE approved £17.3m to support the project to launch satellites into space from the north of Scotland after the proposals were announced by the UK Space Agency (UKSA) in July last year. The figure includes £2.5m from the UKSA and the remaining £5m is being sought from the Nuclear Decommissioning Agency (NDA), which is still considering whether it can support the development.
Forres-based rocket builder Orbex has said it intends to start using the site, known as Space Hub Sutherland, in 2021 and Lockheed Martin Space Systems also wants to use it to launch satellites.
HIE regards the development as a "high risk" project and concerns over rising costs emerged in the recently-published report of the annual audit of the agency by independent public spending watchdog Audit Scotland.
The report said: "Recent indications are that the costs of the project are increasing, and it is not yet clear how these will be funded. HIE recognises this project is high risk and is in active discussions with key stakeholders including Scottish Government and the UKSA."
Last night a HIE spokesman said that with the project "still very much in its development stage" it would be "some time before final costs are established".
He continued: "We are currently progressing the site design with input from the launch companies, Orbex and Lockheed Martin Space Systems. This involves considering a range of options that will best meet their requirements, and looking in detail at the cost implications of each of these.
"This is a highly complex and innovative project and one of the key challenges is to balance the requirements of the launch companies with the need to keep development costs at an appropriate level."
The spokesman added that HIE's timescale remained "being ready to launch the first satellites from Sutherland in the early 2020s."
The UKSA said: "As the grant funder, the UK Space Agency's role is to oversee the disbursement of funding against agreed milestones, monitor value for money and ensure our support for the project continues to align with our overall strategy for developing launch from the UK."