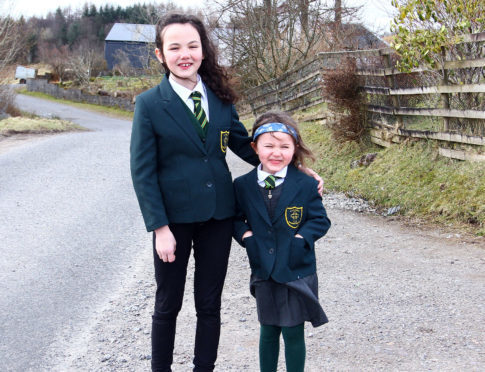 The catchment area of the only catholic school within 80 miles of Oban has been widened after campaigning by parents.
Argyll and Bute Council's community services committee has agreed to make the St Columba's Primary School the same as the mainland catchment for Oban High School.
Previously St Columba's catchment only covered Oban and Dunbeg. This led to four pupils of the school, who lived up to four miles away in Connel, losing their "courtesy" spaces on the bus last year when more children moved to the area.
The families previously paid for their tickets, as they lived outside the old catchment area.
St Columba's is based at the Oban Primary campus, where Rockfield School, with its Gaelic Medium provision, is also based.
Parents pointed out that if the children were attending the very same campus, but for Gaelic Medium education, they would have been entitled to free school transport.
Parent Council chairwoman Helen McGuigan said: "We have been pushing this case for a long time now, as we knew it was the rights of the children from these areas to access our school without barriers such as placing requests, transport, or financial strain.
"With the new catchment area in place it means all new and existing families from these areas will now access the free transport they are entitled to, without the worry that it can be taken away from them.
"Ensuring the rights of our children has been such a long and difficult journey but it was something we were not going to stop campaigning for. We are very happy with this outcome as it will protect the rights and promote inclusiveness to any family choosing to send their children to St Columba's School for generations to come."
The council's policy lead for education, Councillor Yvonne McNeilly, said: "A full public consultation was carried out earlier this year which saw us engage with a wide range of stakeholders, including pupils. This is something which we felt was particularly important.
"We are committed to providing the best possible start for our children and young people, so it is vital that we listen to what they want and value their views and expectations.
"By expanding the catchment area, it means that children and their parents have more choice and will provide greater equity for children and families. I look forward to seeing things progress."