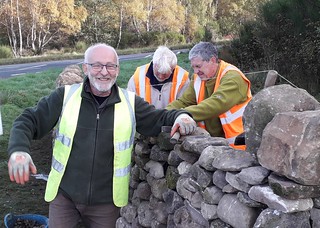 Volunteers from as far afield as Australia have created a new feature at the entrance of Culloden Battlefield.
The drystone wall was built by volunteers taking part in a National Trust for Scotland holiday – known as a Thistle Camp.
They completed the work under the stewardship of professional drystone wall maker, Billy McCallum.
The volunteers came from all over the world, some of them trying drystone dyking for the first time, and they were impressed with their efforts.
Kathryn Scott from Brisbane, Australia, said: "We've really enjoyed it. The locals were really happy watching the walls going up all week. A dog-walker even stopped to thank us for building them."
Volunteer David Hector from Kent, added:  "We've built it from the foundations up, which is really satisfying, and the weather has been amazingly good."
The walls add a traditional touch to the welcome at the historic site and coloured plaques will be fixed in the coming weeks to complete the smarter new look.
As well as Kent and two from Australia, the mixed-age group of volunteers also came from Laurencekirk in Aberdeenshire, Moscow in Ayrshire, and Stanstead Abbotts in Hertfordshire.
Thistle Camps are residential working holidays based at Trust properties, offering opportunities to learn new skills such as drystone dyking, or try out new activities like kayaking.