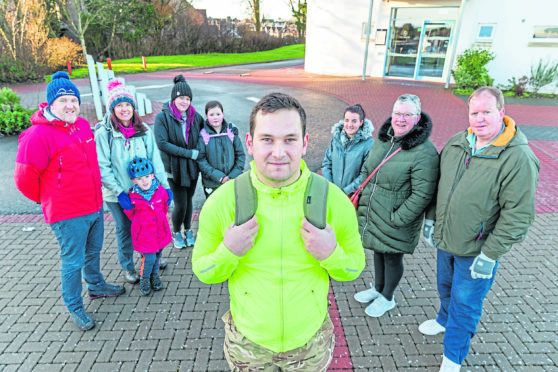 A north-based soldier who tried to take his own life has launched a new fitness venture to help people with their mental health.
is taking a stand to fight for stronger mental health across the Highlands through the launching of a new fitness venture in Nairn.
Matt James Mcallahan, at Fort George as part of 3Scots, ended up in intensive care himself and has lost friends – and says it is "terrifying" that suicide is the number one killer of men under the age of 45.
He has launched Menta-fit Training to encourage change in the way mental health issues are viewed after experiencing his own battles in recent years.
The 26-year-old said: "We will all very likely have either been affected or know someone close to us who is suffering from mental health issues.
"It is a very serious problem.
"I have lost friends over the years who have not been able to fight their demons and I have now decided to take a stand and have something done for mental health in the Highlands."
The idea to launch the new fitness venture came after Mr Mcallahan suffered a breakdown of his own mental health back in 2016, which led to four-day treatment in intensive care after attempting to take his own life.
He said: "I started drinking more often, lost touch with friends and completely cut off my social circle and made excuses to not attend social events.
"Only then did it really hit me how much of a bad place I was actually in.
"Over the years I have seen many other people go through the same problems."
He believes more can – and should – be done in schools to educate children that it is okay not to be okay.
He added: "We were taught a lot about drug and alcohol use at school but it was never correlated with any emotional problems a person using them may be feeling.
"If we can educate children about mental health then they will take that knowledge into adulthood and hopefully be able to at least understand what someone else might be going through.
"If society becomes an open culture where people are encouraged to talk about mental health issues, then this will go a huge way to helping those going through a mental health issue."
As part of the new initiative, guided walks around Nairn will be offered as well as high-intensity interval training (HIIT) sessions, with support for debt management and child therapy to also be offered, all of which will be provided for free.
An open day is scheduled for Sunday at 10am in the Golf View Hotel in Nairn for any interested parties.