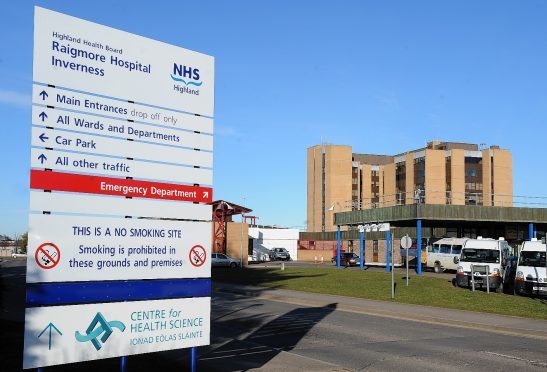 Scheduled operations at Raigmore Hospital have been cancelled due to overwhelming demand for hospital beds.
NHS Highland officials have been forced to postpone several elective procedures at the north's flagship hospital in an effort to ease the growing pressures on staff.
The 'difficult decision' was taken in response to a stark influx of winter admissions in recent weeks, which is said to have left the facility "creaking at the seams".
An NHS Highland spokeswoman said: "Like other health boards across Scotland, we have seen a significant increase in the number of unwell patients having to be admitted to our hospitals in recent weeks.
"To ensure we can meet the demand for our emergency admissions, some elective operations have had to be cancelled.
"This is not a decision that is taken lightly and every effort will be made to reschedule these as soon as possible."
Clinicians and operational managers are now seeking a quick solution to "improve the flow of patient across our hospitals" as physicians work to discharge patients well enough to return home.
Highland and Islands MSP Edward Mountain said he was "extremely disappointed" by the cancellations.
He said: "While I understand the reasons, it is extremely disappointing that elective operations are being cancelled – especially when NHS Highland are not meeting many of the Government's treatment guarantee times."
Mr Mountain urged residents to play their part, saying: "With the increase in admissions at Raigmore it is important to follow the advice of NHS Highland to relieve pressure on our hard-working medical staff."
The news comes as The Strathy Ward in Migdale Hospital in Bonar Bridge lies empty due to a shortage of mental health nurses.
The Sutherland ward – which currently houses no patients – closed its doors to admissions back in November due to the loss of five full-time nurses.
Mr Mountain appealed to officials to utilise all available spaces to help relieve the pressure on Raigmore.
He added: "This winter surge in admission is an annual event.
"I hope the hospital management have planned for it, ensuring all bed spaces in wards have beds and that any wards that are not being used at Raigmore and other Highland hospitals are opened."
Meanwhile, the beleaguered health board is appealing patients to seek alternative treatment from other available health services.
A spokeswoman said: "Members of the public can also help us by helping their relatives or loved ones home.
"They can also help by making the right choice if they need healthcare advice or treatment.
"Those with less serious conditions should consider contacting their GP or pharmacist, or go to their local minor injury unit."