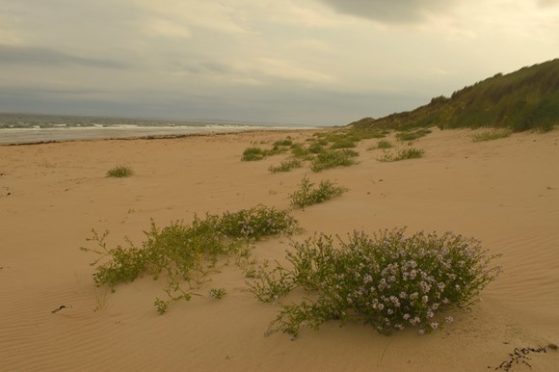 A bitter three-year battle was finally resolved yesterday when the Scottish Government refused to back the creation of a luxury golf course development on an important nature site in Sutherland.
A four-week public inquiry last year heard that Coul Links near Embo had one of the most complex dune systems in Scotland, with relatively low levels of human impact and was an important habitat for rare birds.
Highland Council had granted consent in 2018 against the advice of its own planning officers after developer Todd Warnock – backed by many locals – claimed it would provide a much-needed economic boost for the area.
But, after calling the issue in, the Scottish Government has decided against the proposal, which was opposed to by several nature groups.
Planning Minister Kevin Stewart said: "Reporters have concluded that the harmful impacts of this development to protected habitats and species would outweigh the potential socio-economic benefits.
"This proposal does not comply with the relevant provisions of the Highland Wide Local Development Plan, and runs contrary to Scottish planning policy's emphasis on protecting natural heritage sites and world class environmental assets.
"The Scottish Government has considered the reporter's findings carefully and agree with the recommendation that planning permission should be refused."
RSPB Scotland was one of the Save Coul Links coalition members.
Anne McCall, director at RSPB Scotland said: "We are extremely relieved and delighted by this decision which demonstrates the high value that Scottish Ministers place on our fantastic and incredibly diverse wildlife in Scotland.
"These damaging proposals threatened a site of global importance for nature and should never have made it this far.
"I am incredibly grateful to everyone who stood up against this application over the past few years – it's been a huge partnership effort and inspiring to see how many people raised their voice in support of this amazing place.
"This is a landmark decision of international significance and shows that we can no longer put short term profits above nature."
Jo Pike, chief executive, Scottish Wildlife Trust, said: "We are delighted with the Scottish Government's decision to save Coul Links.
"I would like to say a huge thank you to every one of the thousands of people from across Scotland and beyond who added their voice to our campaign.
"Saving Coul Links from development is a strong sign that the Scottish Government is committed to protecting Scotland's fantastic natural environment.
"Ultimately, it remains surprising that plans for development in one of the most protected areas in the country were allowed to go this far."
Brendan Paddy, Ramblers Scotland director, said: "We are hugely grateful and relieved the Scottish Government has listened to the evidence-based concerns of environment, landscape and access experts, and saved Coul Links from this terrible golf plan."